This baked calamari recipe is a lightened up version of the ever-popular fried calamari, but it's just as delicious! The result is crispy and crunchy, and works well as a weeknight dinner or a game day appetizer.
Update Notes: This post was originally published in February 2013, but was republished with tips, step by step photos, and a recipe change in January 2019.
You may be thinking to yourself that squid is not really a family-friendly food. I thought that in the past as well! Prior to this recipe, I had not really been able to get my kids to eat squid. Depending on how it is cooked, it can have a texture that some kids will not like.
But, when you bake up these calamari rings, your kids will eat them up and then ask for more! It might seem fancy, but this recipe is actually really easy to make using frozen squid rings.
Maybe because they look a little like onion rings, my kids did not hesitate to try them (the first hurdle in introducing a new food). They are crispy and crunchy and have just the right amount of spice to make them flavorful but not overpowering.
Squid offers a lot of nutritional value, and is one of the safest types of seafood in terms of mercury content. Squid provides essential nutrients like phosphorous (which aids in calcium absorption), zinc, copper, selenium (an antioxidant), calcium, niacin (important for metabolism), vitamin B12 (important for red blood cell production and supporting the nervous system), and vitamin C.
Plus it is low in calories and high in protein!
Steps for making this baked calamari recipe
Step 1. Prepare the bowls
You need three separate bowls, since you will be dipping each ring three times: first in a flour mixture, then in beaten eggs, then in a cornmeal/Panko mixture.
Step 2. Coat the calamari rings
It's a little messy, but the process is worth it! I started out dipping each ring individually, but soon realized it was quicker to do about 5 at a time. If your kids are OK with the idea of eating squid, have them wash their hands and get them involved with the process of coating the calamari rings. It can actually be pretty fun!
Step 3. Place the squid rings on a baking sheet
I used a sheet of parchment paper for easier cleanup, but that's totally optional. Position the rings on a baking sheet in a single layer, and then lightly mist with cooking spray before placing in the oven. In 15 more minutes, you will have fabulous calamari rings to enjoy!
Tips for this calamari recipe
I recommend using frozen calamari rings. They easily keep in the freezer so you don't have to worry about cooking them within a certain time period before they spoil.
If you prefer to use fresh seafood, go for it! See this Calamari 101 article for more information on handling fresh squid.
If you use frozen squid rings, you need to thaw them first. Microwaving them is not recommended. The best way to thaw them quickly is to place them in a sealed plastic bag and submerge them in cool water. Work the bag gently with your hands from time to time to separate the frozen rings and help them to defrost.
Calamari cooks quickly, and it gets tough and rubbery when overcooked, so make sure to test your rings once you get to the 15 minute mark.
You can customize the amount of flavor in this recipe by adjusting the spices. My family likes Old Bay spice a lot, so I tend to throw in an extra teaspoon or two. Try it out and take notes so you can remember to make changes for the next time!
Serve with lemon for squeezing over the rings, or marinara for dipping.
This calamari recipe is great because it combines finger-food fun and crunchiness without adding a ton of fat and calories that you get with frying. And it can be used as an entree or as an appetizer.
One thing to mention is that, while this is an EASY recipe, the prep does take a little bit of time just because of the coating process for the rings. But, it's totally worth it, and it cooks up fast so you still can get the meal on the table pretty quickly!
This post may contain affiliate links which won't change your price but will share some commission.
Crispy Baked Calamari Recipe
Serve with lemon wedges and/or marinara for dipping. If using this as an entree, it works well alongside pasta, or a side salad, or both.
If you are making this recipe as an appetizer, you may also be interested in my Baked Brie with Jam recipe. It's really REALLY easy, and super tasty as well as elegant. Your guests will be SO impressed, especially if you serve this alongside of your crispy, crunchy calamari rings!
If you love this recipe, please give it 5 stars! Enjoy!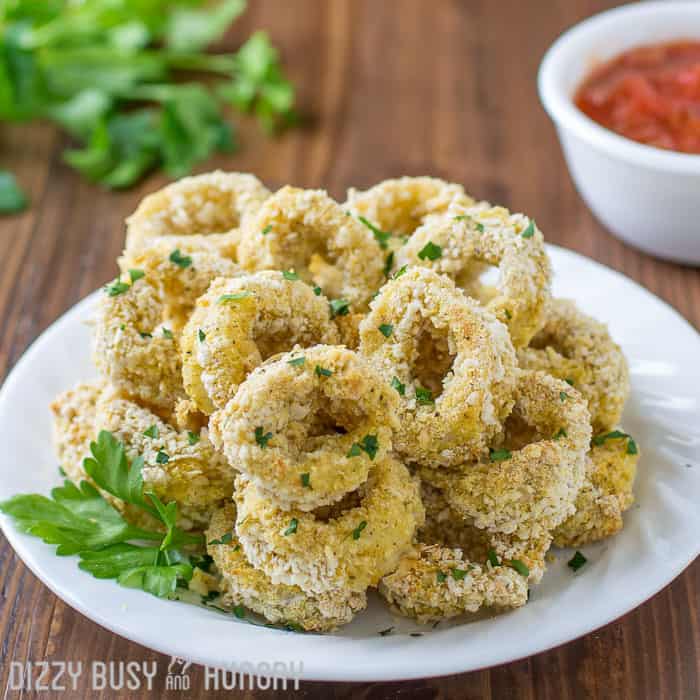 Baked Calamari Recipe
This baked calamari recipe results in a lightened up version of the ever-popular fried calamari, and it's just as crunchy and delicious!
Instructions
Preheat oven to 400 degrees and spray a large baking sheet with cooking spray.

1 ½ pounds squid rings,

Cooking spray

Combine flour, salt, and pepper in a large bowl.

1 cup flour,

1 teaspoon salt,

1 teaspoon pepper

In a separate bowl, beat eggs thoroughly.

In a third bowl, combine bread crumbs, cornmeal, and Old Bay seasoning.

1 cup Panko bread crumbs,

2 teaspoons Old Bay spice,

1 cup cornmeal

First coat each squid ring with the flour mixture, then dip in the eggs, then coat with the crumb/cornmeal mixture.

Place rings on the baking sheet.

Mist the rings with cooking spray, then bake for 10 minutes.

Turn over the rings, then bake for another 5-10 minutes. You don't want to overbake them, so begin to taste test them after 5 minutes and remove when ready but before they become tough.
Notes
I always use frozen calamari rings. It's so easy to keep them in the freezer to pull out anytime we want to make this recipe. But fresh will work just as well!
Frozen squid rings should be thawed before the coating process. The best way to thaw them is to place them in a sealed plastic bag and submerge them in cool water. Work the bag gently with your hands from time to time to separate the frozen rings and help them to defrost.
This recipe was developed to use with kids who often don't like strong flavors. However as my kids got older I started to use extra Old Bay seasoning. You can also try seasoned bread crumbs for additional flavor!
HINT: Taste the dry mix before starting to dip your calamari rings in it to make sure it is seasoned enough for you. Add additional salt, pepper, or Old Bay to suit your taste.
Serve with marinara and/or lemon wedges.
Nutrition
Calories:
530
kcal
|
Carbohydrates:
69
g
|
Protein:
39
g
|
Fat:
8
g
|
Saturated Fat:
2
g
|
Cholesterol:
519
mg
|
Sodium:
669
mg
|
Potassium:
654
mg
|
Fiber:
5
g
|
Sugar:
1
g
|
Vitamin A:
235
IU
|
Vitamin C:
8
mg
|
Calcium:
105
mg
|
Iron:
5.1
mg
Nutritional information is an estimate. The nutritional values for your final dish may vary based on measuring differences and products used.
Like this recipe?
Sign up here for my email list and receive new recipes to your inbox, plus a FREE recipe ebook!
More seafood recipes...
Easy Shrimp Stew is one of those quick and easy recipes that you can keep in your back pocket for a busy weeknight when whatever you had planned just isn't working out. All you need for this recipe is a couple of cans of diced tomatoes, a bag of frozen shrimp, a bag a frozen pepper strips, and some spices, and 20 minutes later you have a delicious home cooked seafood meal.
This recipe for Crab Cakes is incredibly quick and easy. They are so delicious that the first time I served them my husband was convinced that I had brought them home from a local restaurant.
Brazilian Fish Stew - so much flavor, so little effort. You have to give this recipe a try!
Looking for some additional calamari recipes?
You could try this 15-Minute Calamari Recipe with Champagne and Garlic-Lime Dill Sauce, it sounds delicious! Or how about this Pan-Seared Squid with Lemony Aioli and Greens? Yum!
Check out my Dizzy Busy and Hungry store on Amazon for some great kitchen products I recommend!
Happy cooking!