I get commissions for purchases made through links in this post.
This is my favorite quesadilla recipe. These are crispy, delicious, and chock full of nutrition. And baking these quesadillas allows you to make many at once, so you can feed your hungry family quickly and easily!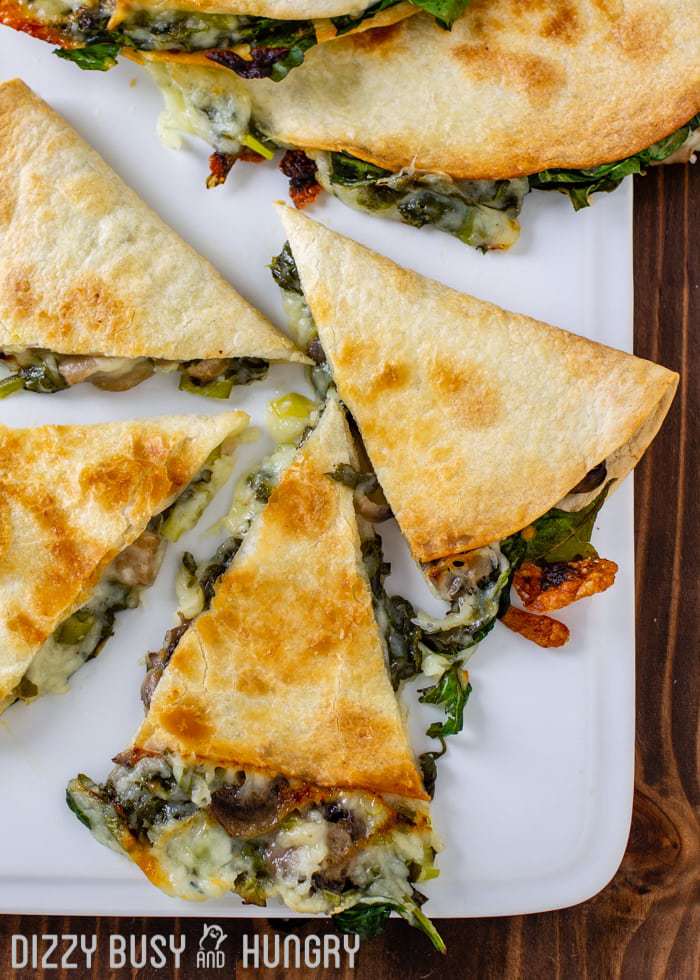 We are huge fans of quesadillas for dinner. We like them even better than tacos! Most of the time I like to stuff them with cheese and veggies, and sometimes even chicken. I just love how versatile they are!
I find that quesadillas are a great way to sneak some extra veggies into the kids. It's not that they don't know the veggies are in there, but somehow they just don't seem to mind. I have used zucchini, bell peppers, chopped broccoli, and asparagus, to name a few!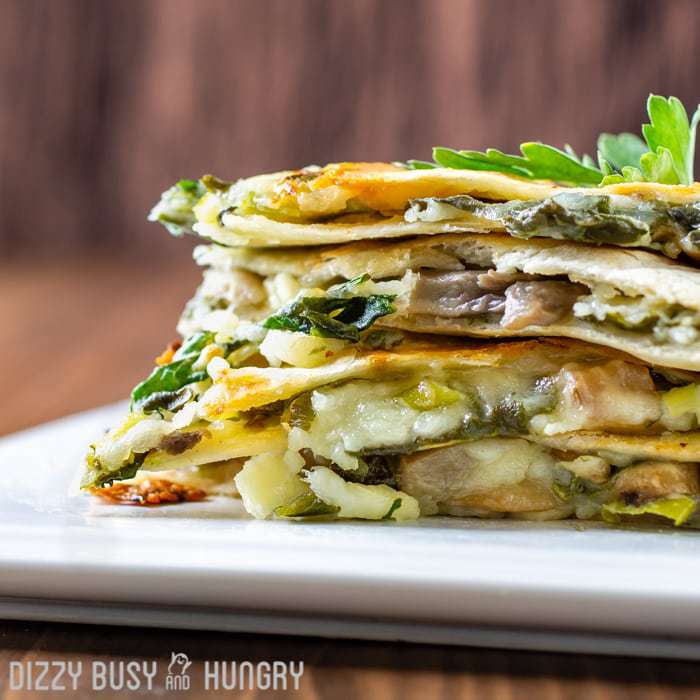 The best part is that I still serve a vegetable side dish along with the quesadillas, and so it is a perfect opportunity to get some extra nutrition into the kiddos.
And for another great mushroom recipe, try these Caprese Stuffed Baked Portobello Mushrooms!
Interested in some of my other quesadilla combos?
Check out my Cheesy Zucchini Spinach Quesadilla recipe, and you definitely don't want to miss my unique and totally yummy Cheesy Eggplant Apple Quesadilla recipe.
I have made those two recipes regularly for years and years, much to the delight of my boys and my hubby. But, I have to say, one thing that always bugged me about making quesadillas for dinner was that I could only make one at a time, which meant that only one person would get a fresh-off-the-stove quesadilla.
Recently, it occurred to me that maybe I should try to bake quesadillas like I bake my grilled cheese sandwiches (check out the instructions for my Turkey and Brie Grilled Cheese!), in order to make more servings at one time, which also has the advantage of allowing me to focus on cooking a side dish while the entree is in the oven.
Why didn't this idea come to me sooner? I have no clue. Apparently, sometimes I am a little S L O W! 🙂
So, as you can see in the photo below, I now place multiple (usually 4) quesadillas on a baking sheet, folded over and stuffed with yummy veggies and cheese, and then......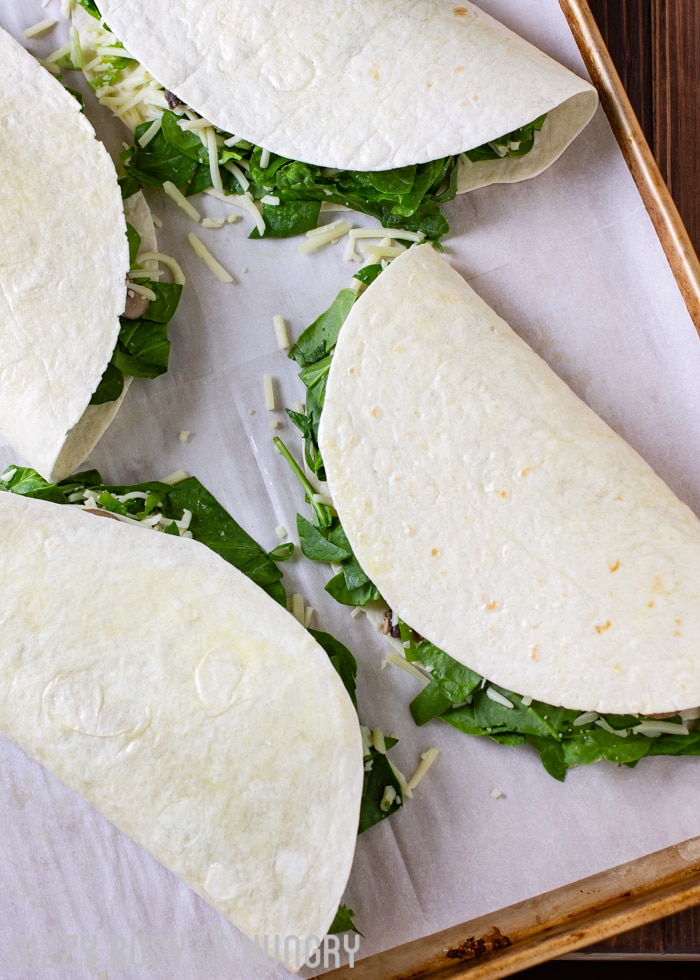 ......I bake them! Don't they look yummy??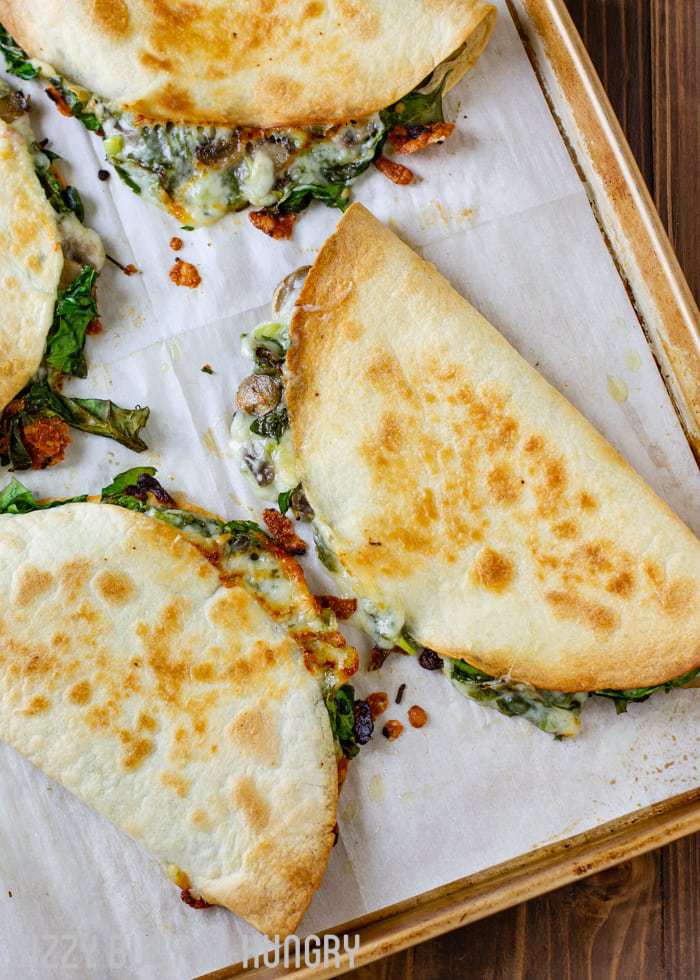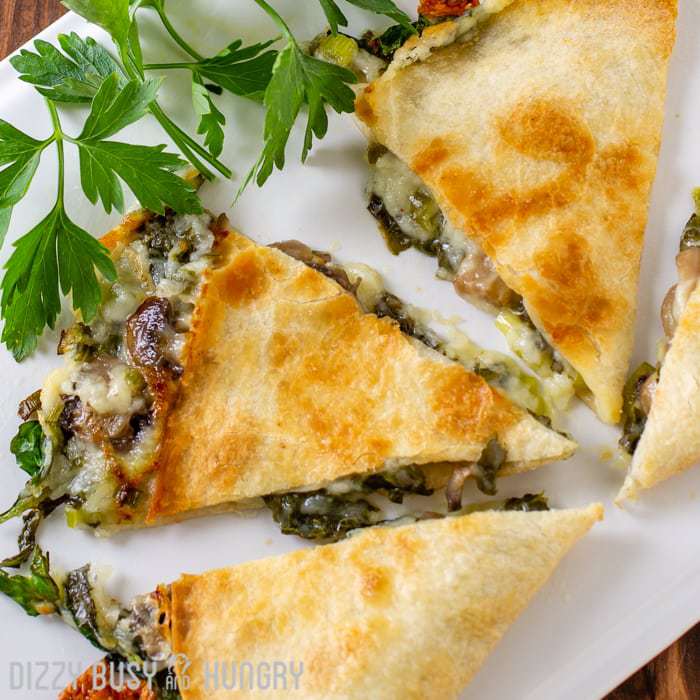 This post may contain affiliate links which won't change your price but will share some commission.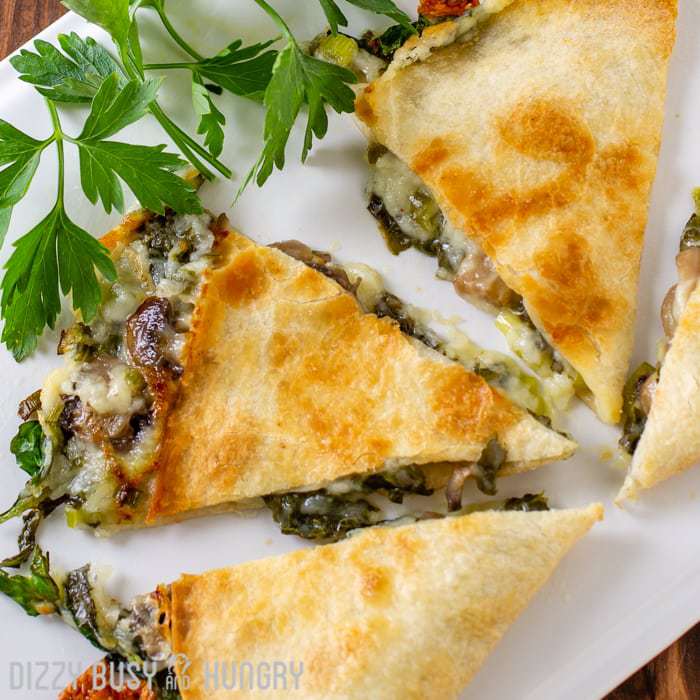 Baked Spinach Mushroom Quesadillas
These are crispy, delicious, and chock full of nutrition. And baking these quesadillas allows you to make many at once, so you can feed your hungry family quickly and easily!
Ingredients
4

tortillas

(8 inch)

olive oil

(enough to lightly coat the tortillas)

8

ounces

sliced mushrooms

1

cup

shredded mozzarella

1

cup

shredded cheddar

3

cups

roughly chopped spinach
Instructions
Preheat the oven to 400 degrees F.

Place the mushrooms in a microwave-safe bowl, and microwave for 2 1/2 to 3 minutes to soften them. Drain the mushrooms and set aside.

Lightly brush one side of each tortilla with the olive oil and place on a baking sheet, oiled side down.

Distribute the mushrooms, spinach, mozzarella, and cheddar evenly over half of each of the tortillas, and fold the other half over top.

Bake the tortilla for about 6 minutes, then flip each over and bake for another 6-7 minutes, until the cheese is melted and the outside of the tortillas is brown.
Nutrition
Calories:
305
kcal
|
Carbohydrates:
19
g
|
Protein:
18
g
|
Fat:
17
g
|
Saturated Fat:
10
g
|
Cholesterol:
51
mg
|
Sodium:
577
mg
|
Potassium:
400
mg
|
Fiber:
1
g
|
Sugar:
2
g
|
Vitamin A:
2580
IU
|
Vitamin C:
7.5
mg
|
Calcium:
399
mg
|
Iron:
2.2
mg
Eggplant Apple Vegetarian Quesadillas
This vegetarian quesadilla recipe contains savory eggplant, tart apple, and melted cheese stuffed between two crispy whole grain tortillas!
Check out this recipe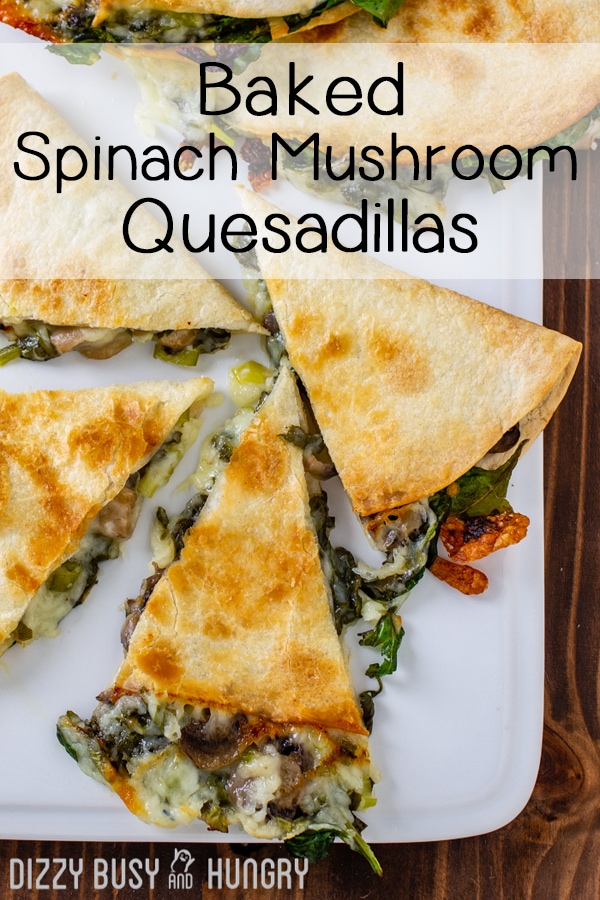 Hey, you might be interested in these products!
Enjoy!