This is my favorite baked quesadilla recipe. These are crispy, delicious, and chock full of nutrition. And baking these quesadillas allows you to make many at once, so you can feed your hungry family quickly and easily!
This recipe is one of my go-to meals for busy weeknights because I can have dinner on the table in less than 30 minutes and everyone loves to eat these!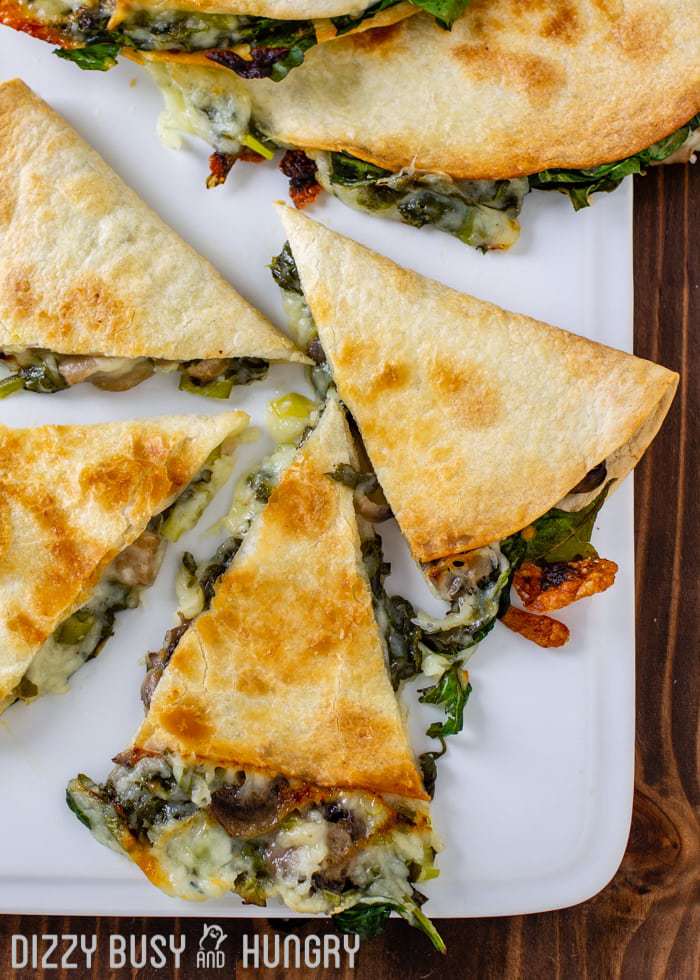 Jump to:
👩🏻‍🍳 Why I Love Oven Baked Quesadillas
We are huge fans of baked quesadillas for dinner. We like them even better than tacos! Most of the time I like to stuff them with cheese and veggies, and sometimes even chicken. I just love how versatile they are!
Making spinach quesadillas are a great way to sneak some extra veggies into the kids. It's not that they don't know the veggies are in there, but somehow they just don't seem to mind.
Besides spinach, I have used zucchini, bell peppers, chopped broccoli, and asparagus, to name a few!
The best part is that I still serve a vegetable side dish along with the quesadillas, and so it is a perfect opportunity to get some extra nutrition into the kiddos.
(Psst...if you like easy vegetarian recipes, you should take a look at my Grilled Avocado Sauerkraut Sandwich. The recipe is from my mom and believe it or not, it is such a great flavor combination! Or why not try this vegan Mushroom Curry?)
Interested in some of my other quesadilla combos?
For more baked quesadilla recipes, check out my Cheesy Zucchini Spinach Quesadilla recipe, and you definitely don't want to miss my unique and totally yummy Cheesy Eggplant Apple Quesadilla recipe.
I have made those two recipes regularly for years and years, much to the delight of my boys and my hubby.
A newer addition to my quesadilla repertoire are Buffalo Chicken Quesadillas, which I love for their bold flavors and slight kick!
I used to make all my quesadillas in a skillet on the stovetop. But, I have to say, one thing that always bugged me about making quesadillas for dinner was that I could only make one at a time, which meant that only one person would get a fresh-off-the-stove quesadilla.
I don't know why I didn't think of it sooner, but it occurred to me not that long ago that maybe I should make an oven baked quesadilla like I do with my grilled cheese sandwiches (check out the instructions for my Turkey and Brie Grilled Cheese!), in order to make more servings at one time, which also has the advantage of allowing me to focus on cooking a side dish while the entree is in the oven.
🥘 Ingredients Needed
tortillas - We like to use regular flour tortillas, although you can use corn tortillas or even whole wheat tortillas for extra nutrition. I usually buy the large burrito size, since my boys are older and eat more than when they were little!
olive oil - I include this ingredient because most people like a little oil on their quesadillas, but frankly, you can skip it. These baked quesadillas are so delicious, I stopped using the olive oil altogether and no one even noticed.
cheese - I like to use a little mozzarella and a little cheddar, but you can stick with just one or the other, or sub in your favorite cheeses.
mushrooms - I buy the mushrooms pre-sliced to make my life a little easier.
spinach - I buy pre-washed fresh baby spinach. In the instructions I recommend roughly chopping it to make it easier to work with, but often I don't even bother (aka LAZY. lol)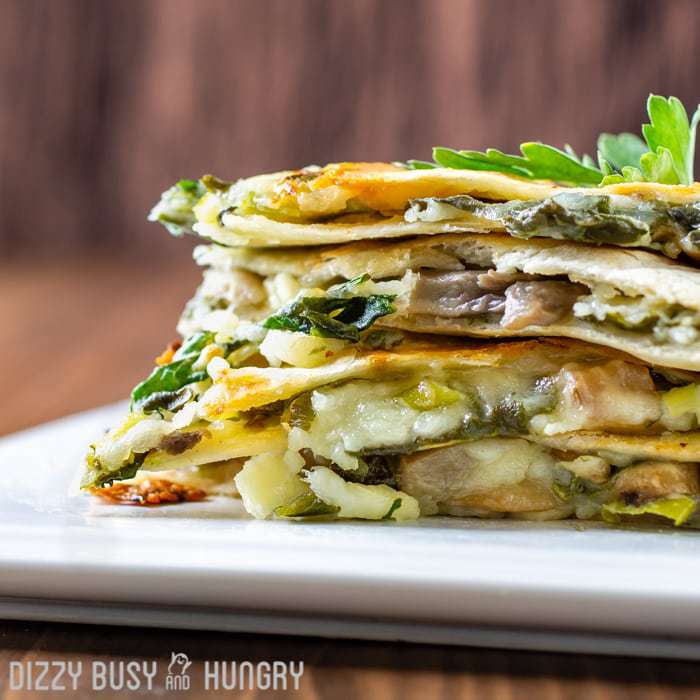 🔪 Instructions
Preheat the oven. Place the mushrooms in a microwave-safe bowl and zap on high for 2 ½ to 3 minutes so that they soften and cook a bit.
If using the oil, lightly brush one side of each tortilla and place oil side down on a baking sheet.
Layer the ingredients on one half of each tortilla. I usually start with a light layer of cheese, then the spinach, then the mushrooms, then a top layer of cheese, dividing everything up fairly evenly among the tortillas.
Fold the other half of each tortillas over the layers, then bake for about 6 minutes. Flip the quesadillas, and bake for another 6 minutes.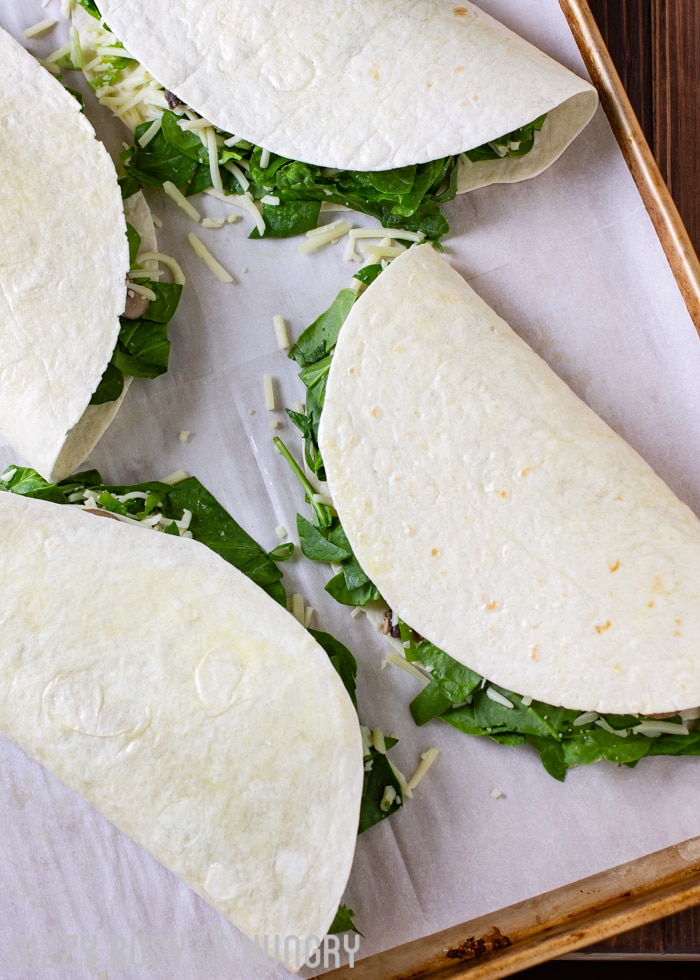 📖 Baked Quesadilla Variations
Change up the cheese! You can try pepper jack, provolone, colby, or even things like brie or blue cheese.
Change up the veggies! Some chopped, cooked broccoli florets would work well. Cauliflower is also a good choice.
Add more mushrooms or more spinach if you want to make these even heartier. As my boys have gotten older, I've definitely started piling on more mushrooms (because they really like them).
Use different tortillas. There are so many options now! You can try the spinach or tomato tortillas, or experiment with corn, whole wheat, or low carb varieties.
Are you here because you like mushroom quesadillas? For another great mushroom recipe, try these Caprese Stuffed Baked Portobello Mushrooms!
Are you here because you like spinach quesadillas? Try these delicious Cheesy Zucchini Spinach Quesadillas!
Making oven baked quesadillas allows you to cook many servings at once. It also frees you up to be able to focus on putting together a nice side dish while the oven is crisping up your cheesy quesadillas!
💭 Helpful Tips
Use a large baking sheet to make sure you have enough room for multiple tortillas.
Use parchment paper on the baking sheet for easy cleanup!
Buy pre-washed spinach. If you buy baby spinach you may not even need to chop it prior before using it!
Buy pre-sliced mushrooms. I still always wash them first but at least I don't have to slice them. If some of the slices are rather large or thick, I just break them in half.
Feel free to skip the oil if you are trying to minimize oil in your diet. These are delicious without it!
Instead of a baked quesadilla, you can make these on the stovetop. Simple place the stuffed tortilla into a large skillet over medium high heat and cook each side until brown and crispy.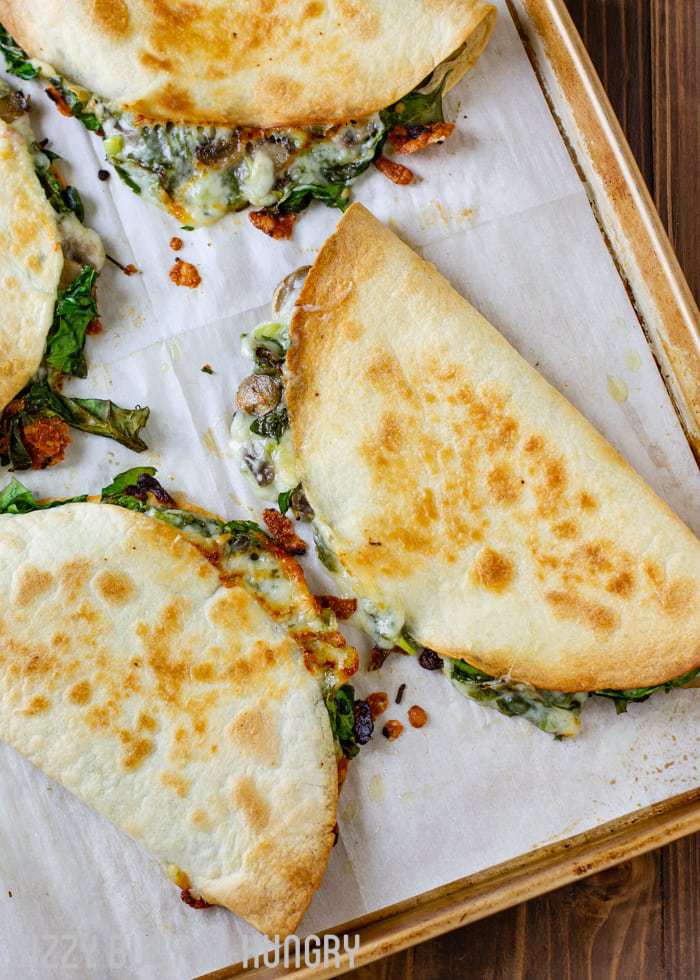 🧊 Storage
If you have leftovers, store in the refrigerator in an airtight container for up to 5 days.
To reheat:
Place on a baking sheet in the oven or toaster oven at 325 degrees F for about 10 minutes or until the quesadilla is hot and the cheese melted.
Place in a skillet on the stovetop over medium heat and cook about 5 minutes on each side until heated through.
Place in the microwave and heat for about 1 ½ - 2 minutes on high. This method is not recommended though, because the texture of your quesadilla will become a little soft and rubbery,
Baked Quesadilla Recipe
Love this mushroom quesadilla recipe? Awesome! Please give it a 5 star ⭐ rating below! And if you make this, snap a photo and tag me on Instagram. You can find me at DizzyBusyandHungry or #dizzybusyandhungry!
📋 Recipe Card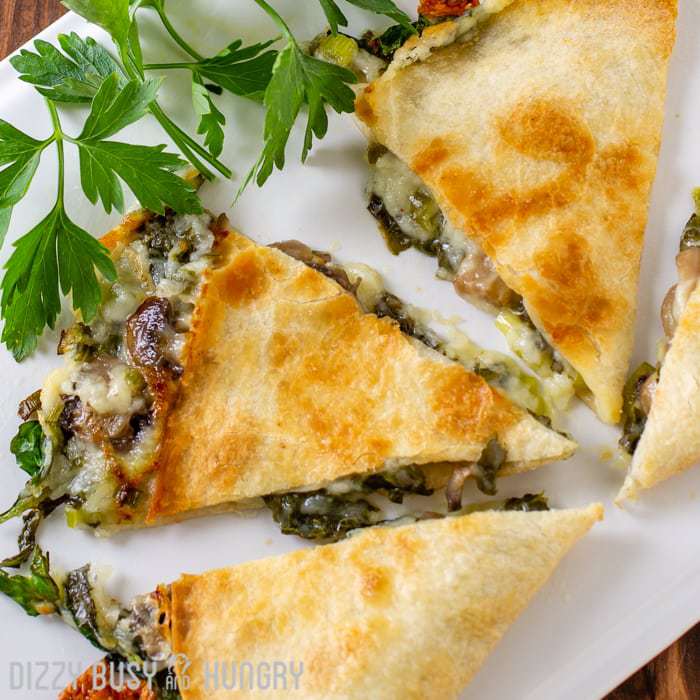 Baked Spinach Mushroom Quesadillas
These are crispy, delicious, and chock full of nutrition. And baking these quesadillas allows you to make many at once, so you can feed your hungry family quickly and easily!
Ingredients
4

tortillas

(8 inch)

olive oil

(optional, enough to lightly coat the tortillas)

1

cup

shredded mozzarella

1

cup

shredded cheddar

3

cups

roughly chopped spinach

8

ounces

sliced mushrooms
Instructions
Preheat the oven to 400 degrees F.

Place the mushrooms in a microwave-safe bowl, and microwave for 2 ½ to 3 minutes to soften them. Drain the mushrooms and set aside.

8 ounces sliced mushrooms

Lightly brush one side of each tortilla with the olive oil (optional) and place on a baking sheet, oiled side down.

Distribute about half of the each of the cheeses over half of each of the tortillas. Then layer the spinach, then the mushrooms, then the rest of the cheeses, and fold the other tortilla half over top.

1 cup shredded mozzarella,

1 cup shredded cheddar,

3 cups roughly chopped spinach

Bake the tortillas for about 6 minutes, then flip each over and bake for another 6-7 minutes, until the cheese is melted and the outside of the tortillas is brown.
Notes
The oil is totally optional. My family didn't even notice when I stopped using it. Save yourself a few calories and skip it if you like!
If you buy baby spinach, you can get away without chopping it first. It will be a little piled up, but when you fold the second half of the tortilla over, just smush it down a little. It will also cook down once it's in the oven.
You don't have to use 2 different cheeses. You can use 2 cups of mozzarella or 2 cups of cheddar or another cheese or combo of cheeses!
Use different vegetables to change this recipe up! Many veggies you will want to cook a bit first before using them in the quesadilla. Cooking them for a few minutes in the microwave usually does the trick.
I used regular flour tortillas, but you can experiment with different tortillas to find the ones your family likes best!
If you are usually a little short on time, save yourself a little trouble and buy your mushrooms pre-sliced.
Nutrition
Calories:
305
kcal
|
Carbohydrates:
19
g
|
Protein:
18
g
|
Fat:
17
g
|
Saturated Fat:
10
g
|
Cholesterol:
51
mg
|
Sodium:
577
mg
|
Potassium:
400
mg
|
Fiber:
1
g
|
Sugar:
2
g
|
Vitamin A:
2580
IU
|
Vitamin C:
7.5
mg
|
Calcium:
399
mg
|
Iron:
2.2
mg
Nutritional information is an estimate. The nutritional values for your final dish may vary based on measuring differences and products used.
Want to make cooking even easier?
Sign up here to receive FREE DBH exclusive content, including my favorite kitchen shortcuts and hacks, and unlock access to the DBH resource library with many other free downloads!
Update Notes: This post was originally published in August 2018, but was republished with tips, more information, and a recipe change in May 2021.