This Crock Pot Guinness Chicken Stew is a new twist on a traditional favorite. If you're looking for a delicious St. Patrick's Day dinner that is easy and tasty, but not the typical Guinness beef stew, you've found your solution!
When you make this Guinness chicken stew in your crock pot, you'll love the way your house smells and everyone will be clamoring for dinner time.
Slow cooker Guinness stew is like comfort in a bowl on a cold, windy day. It's also the perfect way to get your Irish on and celebrate St. Patty's Day! But what if you don't want beef? Well, try some simple Guinness crock pot stew with chicken instead.
Start this Guinness stew in your crock pot in the morning, and by evening you'll have the scent and flavors of an Irish countryside pub throughout your home.
Have you ever used beer in a recipe before? It adds a depth of flavor and enhances the savory nature of stew beautifully. And Guinness more so than most, because it's such a dark, rich one all on its own. Plus beer makes your meat even more tender.
The cooked bacon, garlic, onion, and Guinness combine to make a savory treat that everyone is going to love. The time they spend merging together in your slow cooker will create a rich, savory gravy that will be completely unique to anything you're used to - you're going to really enjoy it!
What to Serve with Slow Cooker Guinness Chicken Stew
Unlike many other similar hearty recipes, this slow cooker Guinness chicken stew is not made with potatoes, so you're free to pick your favorite way to serve them up on the side.
Roasted potatoes with some olive oil, rosemary, and sea salt would pair beautifully with this rich Irish stout based stew. Other options are your favorite rustic mashed potatoes or whipped and creamy potatoes puree. Even baked potatoes could work.
A roasted root vegetable medley including potatoes, sweet potatoes carrots, and radishes would be a colorful side dish that would complement this hearty stew, as well.
And of course, tender meat, flavor soaked vegetables, and warm goodness always pair well with a flaky sourdough bread or other doughy favorite to soak up the gravy.
You might enjoy making cheesy whole wheat biscuits or some easy crockpot garlic parmesan bread to go on the side if you haven't bought some sourdough ahead of time.
Tips for the Best Slow Cooker Guinness Stew
This Irish stout has a malty flavor and creamy texture that works beautifully with savory dishes. If you've never cooked with Guinness, you're in for a treat.
In fact, it's a very versatile recipe ingredient and you may want to peek at these ways to cook with Irish stout for even more ideas.
(Pssst...you can even bake with it! Check out this super easy recipe for Crock Pot Guinness Chocolate Cake! It will knock your socks off!)
Using chicken still on the bone is part of what will make this Guinness chicken stew so rich, too. You get the deeper flavors of the meat when you keep them bone in, as it enhances the broth that you'll use as your gravy foundation.
Also, you'll add your frozen mixed veggies at the end instead of the beginning so they don't get lost in the stronger flavors of the other ingredients that will have been simmering together all day. This is a great way to keep the vegetable flavors more distinct, yet still let them blend with the rest of the ingredients.
Steps for making Guinness Chicken Stew
Step 1.
Place the chopped onion in the bottom of the slow cooker. You can use fresh onion, but feel free to take a shortcut and use frozen - that's what I usually do!
Step 2.
Place the chicken on top of the onion.
Step 3.
Distribute the bacon and mushrooms on top of the chicken.
Step 4.
Combine the Guinness, chicken broth, minced garlic, pepper, salt, and dried thyme.
Step 5.
Pour the mixture into the crock pot, and cook on low for 6-8 hours.
Step 6.
About 20 minutes before serving, mix together the flour and water and slowly pour into the crock pot, stirring constantly. This will give you a thicker, creamier sauce.
Step 7.
Stir in the mixed vegetables, and cook for about 20 more minutes.
Shortcuts for making Guinness Chicken Stew
As I mentioned above, you can use frozen chopped onion. It's so much easier than fresh and you can always have it on hand in your freezer.
Use precooked bacon. Yes, it costs more, but so does takeout. If spending a little extra makes it possible for you to cook for your family AND keep your sanity, then it's worth it!
Buy sliced mushrooms. Then all you have to do is rinse and use.
I often use jarred minced garlic for slow cooker recipes. No one can tell the difference!
To serve this with bread that tastes fresh baked, warm up a loaf of sourdough, Italian, or French bread in the oven. (Preheat the oven to 350 degrees F, wrap the bread in foil, and heat for about 10-15 minutes.)
This post may contain affiliate links which won't change your price but will share some commission.
Crock Pot Guinness Chicken Stew
Serve with a side salad and warm, crusty bread for a delicious, comforting family meal!
If you love this recipe, please give it 5 stars! Enjoy!
📋 Recipe Card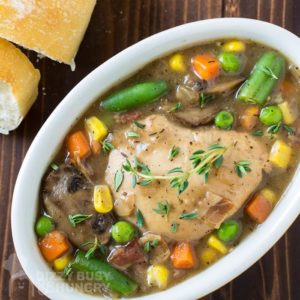 Crock Pot Guinness Chicken Stew
This Crock Pot Guinness Chicken Stew is a new twist on a traditional favorite. It's an easy and tasty alternative to the typical Guinness beef stew!
Ingredients
2

cups

chopped onion

2 ½

pounds

skinless chicken thighs

(bone-in or boneless, whichever you prefer)

8

strips

bacon, cooked and chopped

8

ounces

mushrooms, sliced

14

ounces

Guinness stout beer

(1 can)

1

cup

chicken broth

2

tablespoons

minced garlic

½

teaspoon

black pepper

1 ½

teaspoons

salt

1 ½

teaspoons

dried thyme

16

ounces

frozen mixed vegetables

(1 bag)

½

cup

flour

1

cup

water
Instructions
Place the onion in the crock pot.

Layer the chicken on top of the onion.

2 ½ pounds skinless chicken thighs

Distribute the bacon and mushrooms over the chicken.

8 strips bacon, cooked and chopped,

8 ounces mushrooms, sliced

In a bowl or large measuring cup, combine the Guinness, broth, garlic, pepper, salt, and thyme.

14 ounces Guinness stout beer,

1 cup chicken broth,

2 tablespoons minced garlic,

½ teaspoon black pepper,

1 ½ teaspoons salt,

1 ½ teaspoons dried thyme

Pour the Guinness mixture over the chicken, cover, and cook on high for 3-4 hours or low 6-7 hours.

About 20 minutes before you are ready to serve, combine the flour with the water, then slowly add the mixture to the crock pot while stirring. (If you prefer, you can remove the chicken first and replace it when this step is complete. But I'm a little lazy and so I usually just leave it in!)

Add in the mixed veggies, re-cover, and cook until they are heated through, about another 20 minutes.

16 ounces frozen mixed vegetables
Notes
Bone-in chicken thighs produce the best flavor, but honestly boneless are a really close second, and you can also use chicken breasts.
Frozen chopped onion is a great alternative to fresh. It's easier to use and keeps for much longer in your freezer.
You can buy packages of precooked bacon to eliminate the step of cooking it. Or, if you cooking bacon anyway, fry up some extra and save it in the refrigerator for this recipe (you may have to hide it, though, so the family doesn't eat it!)
If you buy your mushrooms already sliced, you wil only need to rinse them quickly before using them.
Use jarred minced garlic instead of fresh. No one will notice!
Serve with mashed, roasted, or baked potatoes, or with warm crusty bread. (To heat a loaf of Italian, French, or sourdough bread, preheat the oven to 350 degrees F, wrap the bread in foil, and heat for about 10-15 minutes.)
Nutrition
Calories:
493
kcal
|
Carbohydrates:
27
g
|
Protein:
46
g
|
Fat:
20
g
|
Saturated Fat:
5
g
|
Cholesterol:
198
mg
|
Sodium:
1129
mg
|
Potassium:
932
mg
|
Fiber:
4
g
|
Sugar:
3
g
|
Vitamin A:
3905
IU
|
Vitamin C:
16.2
mg
|
Calcium:
60
mg
|
Iron:
3.6
mg
Nutritional information is an estimate. The nutritional values for your final dish may vary based on measuring differences and products used.
Want to make cooking even easier?
Sign up here to receive FREE DBH exclusive content, including my favorite kitchen shortcuts and hacks, and unlock access to the DBH resource library with many other free downloads!
Looking for another unique stew recipe? This easy shrimp stew is spicy and comforting and will warm you from head to toe!
Do you have other favorite stew recipes? Leave a comment and share!