Lightened up and easy to make, yet still so delicious, this Baked Chicken Fried Steak is a hearty dish your whole family will love!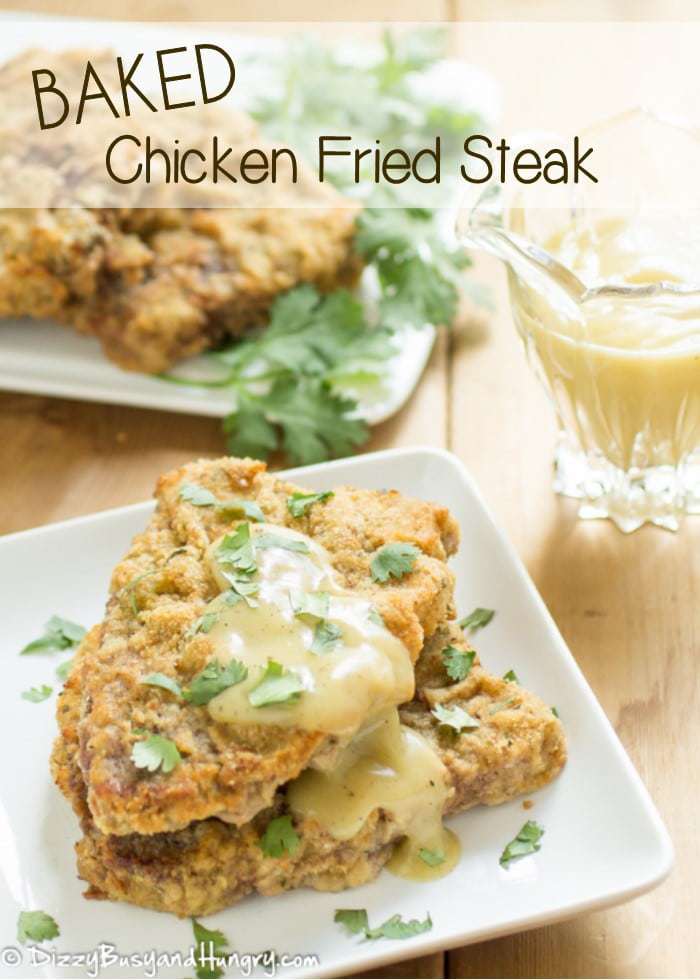 This is chicken fried steak at its best! The beef is so moist and delicious because its baked slowly in the oven. Finally, I topped it with a rich chicken gravy which is irresistible!
So, what is chicken fried steak?
My boys call this dish 'a lie on a plate'.
Why?
Well, it isn't chicken, and it isn't fried. So it's really two lies!
But who's counting?!
(PS: I do have a true Chicken Potato Bake recipe which has chicken and is baked, LOL.)
(PPS: If you like to 'chicken fry' things that aren't actually chicken, try this Vegan Fried Chicken recipe! Don't be put off by the fact that it's vegan - this recipe is crispy, crunchy, and meaty and is actually so much better for you than chicken or beef!)
Anyway, I really do love a good chicken fried steak, but I can do without all the fat and calories. So one day when I was craving this dish, I decided to try it with a 'fake frying' method, which I also use with calamari (YUM) and actual chicken as well.
I couldn't believe how tasty it was!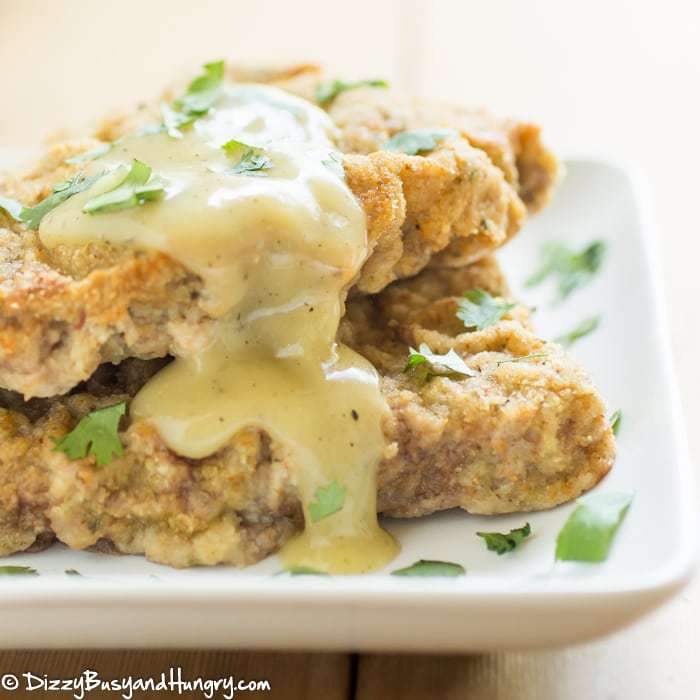 Baked cube steak recipes are really popular among my readers. When cooked, they are so tender and juicy. Plus they are so filling.
You can never go wrong with beef recipes for dinner. One of my family favorites is this crock pot beef and mushroom recipe. It takes very little effort to make which means less work for me.
Recently, I discovered that beef and broccoli are best friends. I put them together in this crock pot beef and broccoli recipe which just made everyone jump with joy.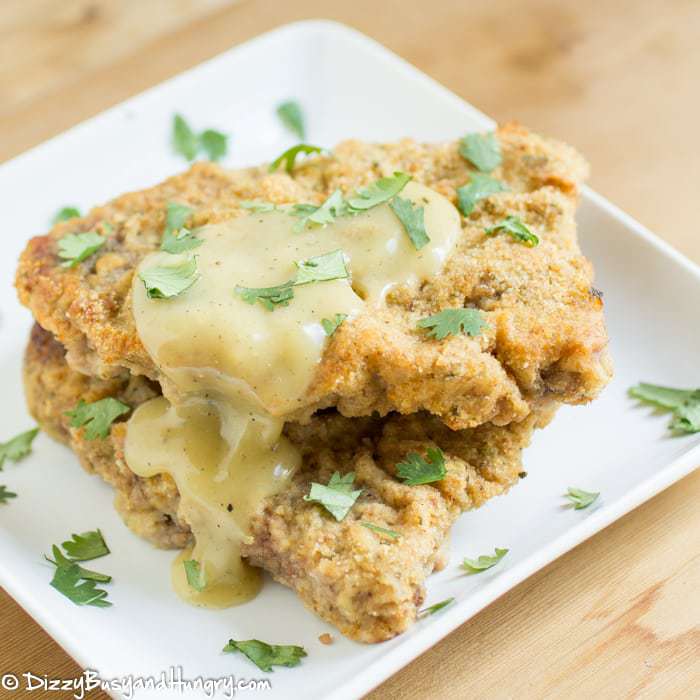 And if you are looking for more baked chicken recipes, I recently made this baked breaded lemon chicken which was well received by Thing 2!
I cheated a little in this chicken fried steak recipe by using cube steak from Certified Angus Beef, which is already tenderized when you buy it. But it was well worth it! However, you can also tenderize your own steak using a tenderizer if you have one.
How to make Chicken Fried Steak (Baked)
📋 Recipe Card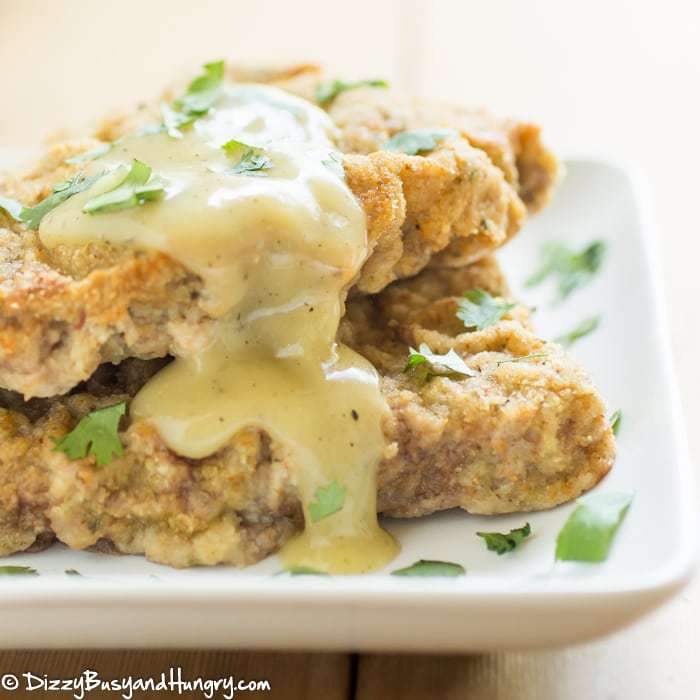 Baked Chicken Fried Steak
Lightened up and easy to make, yet still so delicious, this is a hearty dish your whole family will love!
Ingredients
Instructions
Preheat oven to 400 degrees F (200 degrees C).

Combine flour, salt, and bread crumbs in one bowl.

⅓ cup flour,

1 and ½ teaspoons salt,

⅔ cup seasoned bread crumbs

In a separate bowl, beat the eggs and milk together.

2 egg whites,

2 tablespoons milk

Dip one cube steak into the flour mixture first.

1 and ½ pounds cube steak

Next, dip the cube steak in the egg mixture.

Dip it in the flour mixture one more time.


Place on the baking sheet.


Repeat the steps for the remaining steak cubes.


Place tray in the oven and bake for 10 minutes.


Turn the steaks over and bake for another 5-10 minutes.

When the meat is done and the breading is browned, the chicken fried steak is ready.


Warm the gravy in the microwave and serve alongside the steaks.
Nutrition
Calories:
502
kcal
|
Carbohydrates:
26
g
|
Protein:
40
g
|
Fat:
24
g
|
Saturated Fat:
9
g
|
Cholesterol:
130
mg
|
Sodium:
1644
mg
|
Potassium:
661
mg
|
Fiber:
1
g
|
Sugar:
3
g
|
Vitamin A:
325
IU
|
Vitamin C:
0.6
mg
|
Calcium:
84
mg
|
Iron:
4.2
mg
Nutritional information is an estimate. The nutritional values for your final dish may vary based on measuring differences and products used.
Want to make cooking even easier?
Sign up here to receive FREE DBH exclusive content, including my favorite kitchen shortcuts and hacks, and unlock access to the DBH resource library with many other free downloads!
Check out these other great recipes!
Appetizers, Soups, and Salads
Lean Ground Beef Recipes
Mains
Sandwiches and Wraps
Steaks