This Cilantro Lime Dip is delicious served with tortilla chips and margaritas, or used as a flavorful topping on fish, chicken, or burgers.
This dip is completely addictive and perfect for parties or picnics...or just make a batch all for yourself!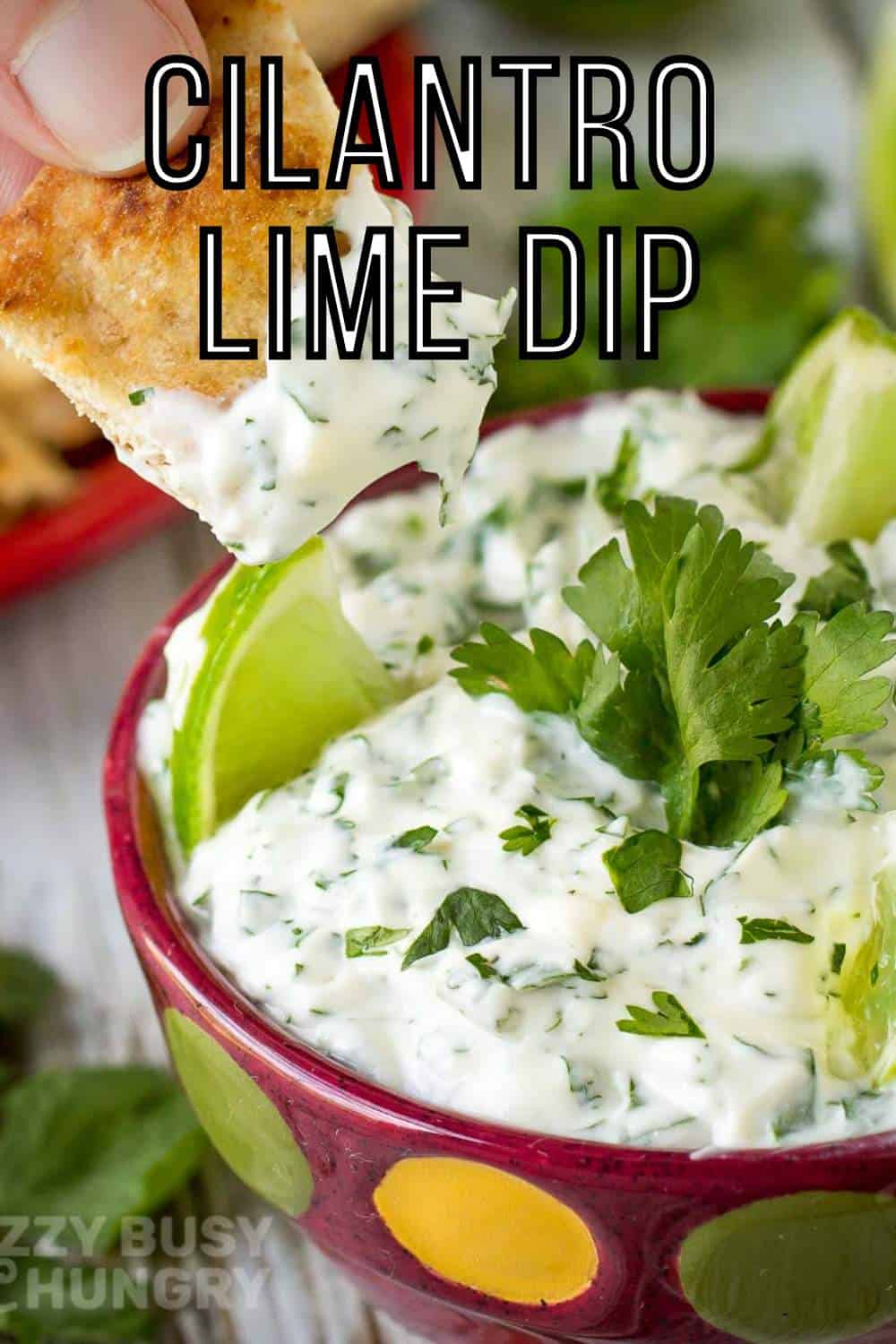 Jump to:
💚 Why You'll Love This Recipe
WARNING! This dip is completely addictive! I can't stop eating it. I rue the day I had the idea to make a dip perfect for serving with tortilla chips and margaritas. This recipe turned out better than I ever imagined it would be!
Not only is it amazing with tortilla chips, but just try putting it on a fish sandwich, baked chicken, or even a burger. YUM! This stuff adds incredible flavor to just about anything you can think of.
Today I added a couple of tablespoons to a big bowl of lettuce, tossed it around to coat all the leaves, and enjoyed a super-yummy salad. I might have to do that again tomorrow!
🧂 Ingredients Needed
mayonnaise - provides a creamy base for this cilantro dipping sauce.
sour cream - gives your dip a nice tangy finish.
cilantro - contributes a distinctly fresh and somewhat citrusy flavor.
lime juice - pairs well with the cilantro and gives the dip a nice acidic bite.
salt - helps to bring out the other flavors.
minced garlic - this additional optional ingredient adds an extra layer of garlicky flavor.
🔪 Instructions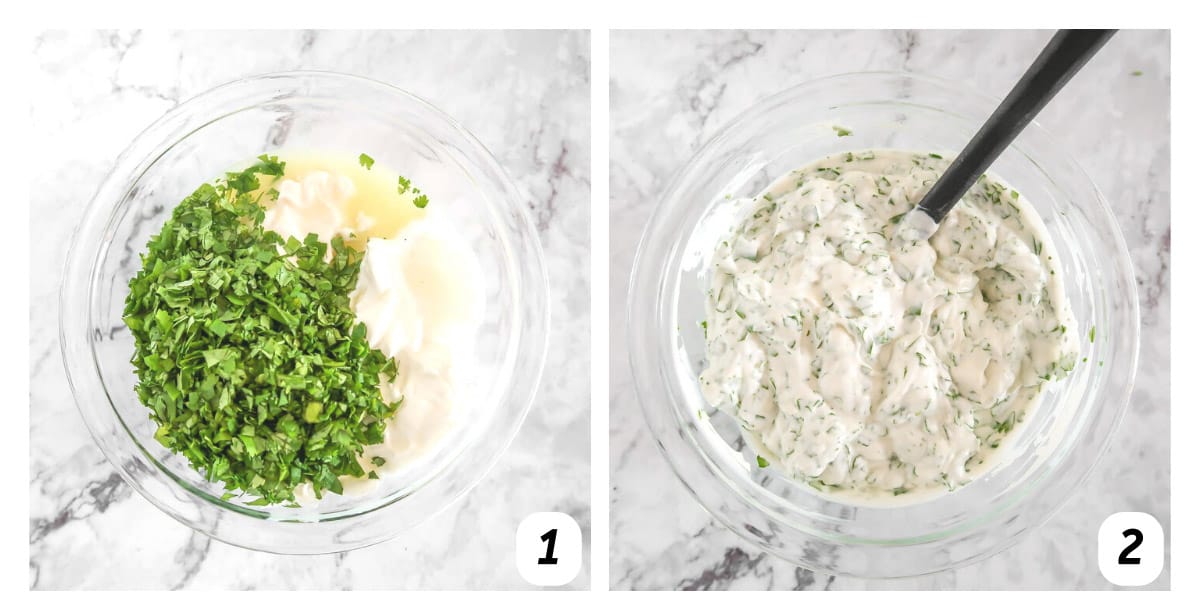 Add mayonnaise, sour cream, cilantro, lime juice, and salt to a large bowl (as well as garlic, if using).
Stir until well combined and serve!
❔ FAQs
What is cilantro lime sauce made of?
Most recipes combine cilantro and lime juice with sour cream and salt. Some also include ingredients like mayonnaise, avocado, and minced garlic for additional creaminess and flavor.
What can I serve with cilantro lime crema?
This versatile recipe yields a finished product that's excellent as a dipping sauce, a spread for sandwiches, or even a salad dressing. Serve it with a big bowl of tortilla chips, slather it on a fish sandwich or burger, or mix it with a little bit of oil and toss with lettuce and tortilla strips!
💭 Expert Tips and Tricks
For a bit of extra pizzazz, top your dip with additional cilantro and another squeeze of lemon juice.
You'll want to use fresh ingredients for best results with your cilantro dipping sauce, but if you're in a pinch you could use a lightly dried cilantro instead.
If you like fresh lime juice, you'll need to squeeze 2 to 3 limes in order to achieve 4 to 5 tablespoons of juice.
Microwave your limes for 20 to 30 seconds before squeezing to make juicing easier.
📌 This cilantro dipping sauce would be a perfect appetizer to serve at a Cinco de Mayo party, but actually I think this is going to become an all-around summer staple for us. Next time we head up to the lake house, we are bringing a big bowl of this dip to share with all our friends!

I can imagine relaxing with a Corona, munching some chips with this Cilantro Lime Dip, while hanging out on the boat in the bright, warm sunshine!
💡 Substitutions and Variations
For an even more flavorful dip, add other spices and herbs like dill, oregano, basil, red pepper flakes, and more.
Use low fat mayonnaise and sour cream for a slightly lighter and healthier version of this cilantro dipping sauce.
🔊 What readers are saying...
"Love this dipping. I made it to go with fish and chips. Used Greek yogurt as I didn't have sour cream at home. Thanks for sharing!"
- Evonne
🥫 Storage
Leftover Cilantro Lime Dip can be kept in the fridge for up to a week. I don't recommend storing it in the freezer, as the texture will be altered when thawed.
🍴 What To Serve With This Dish
This cilantro dipping sauce is the perfect accompaniment to any taco dinner! Pair it with Chipotle Shrimp and Asparagus Soft Tacos or use it as one of your fix-ins with Tortilla Bowls. You can also use it as a dipping sauce for these Easy Skillet Chicken Fajitas or as an appetizer or side dish with Baked Eggplant Fries.
✔️ More Dip Recipes You'll Love
If you like dips, check out this article with over 25 ideas for savory and sweet pretzel dips, which can also be used for crackers, chips, cut veggies, fruit, or anything you like to dip!
Cilantro Lime Sauce
Love this recipe? Awesome! Snap a photo and tag me on Instagram. You can find me at DizzyBusyandHungry or #dizzybusyandhungry!
⭐ Did you make this recipe? Please give it a star rating below! ⭐
📋 Recipe Card
Cilantro Lime Dip
This cilantro dipping sauce is delicious served with tortilla chips and margaritas, or use as a flavorful topping on fish, chicken, or burgers!
Ingredients
1

cup

mayonnaise

(light or regular)

1

cup

sour cream

(light or regular)

1

cup

chopped cilantro

4-5

tablespoons

lime juice

½

teaspoon

salt

1

teaspoon

minced garlic

(optional)
Instructions
Combine all ingredients in a medium bowl.

1 cup mayonnaise,

1 cup sour cream,

1 cup chopped cilantro,

4-5 tablespoons lime juice,

½ teaspoon salt,

1 teaspoon minced garlic

Cover and refrigerate for at least 2 hours, to allow all the flavors to combine.

Serve as a dip with chips or bread, or use as a topping on fish, chicken, or hamburgers.
Notes
Fresh ingredients taste best, but in a pinch you can use lightly dried cilantro like the kind made by Gourmet Garden (not an affiliate link).
Fresh lime juice tastes amazing in this recipe. To squeeze about 4-5 tablespoons of fresh lime juice you will need 2-3 limes. Microwave a whole lime for 20-30 seconds before squeezing to get the most juice.
Store leftovers in the refrigerator for up to a week. Freezing is not recommended.
Nutrition
Calories:
248
kcal
|
Carbohydrates:
1
g
|
Fat:
26
g
|
Saturated Fat:
6
g
|
Cholesterol:
26
mg
|
Sodium:
347
mg
|
Potassium:
65
mg
|
Sugar:
1
g
|
Vitamin A:
330
IU
|
Vitamin C:
3.1
mg
|
Calcium:
35
mg
|
Iron:
0.1
mg
Nutritional information is an estimate. The nutritional values for your final dish may vary based on measuring differences and products used.
Want to make cooking even easier?
Sign up here to receive FREE DBH exclusive content, including my favorite kitchen shortcuts and hacks, and unlock access to the DBH resource library with many other free downloads!