Make this Copycat Jiffy Cornbread Mix and discover the secret to a delicious cornbread with just 6 staple pantry ingredients! This healthier and tastier alternative to the store bought mix will become a new favorite for any cornbread fan.
Easy to put together and with no preservatives, this versatile base mix can create multiple batches of cornbread, muffins, and more! Budget friendly and always delicious, you'll have cornbread at your fingertips any time.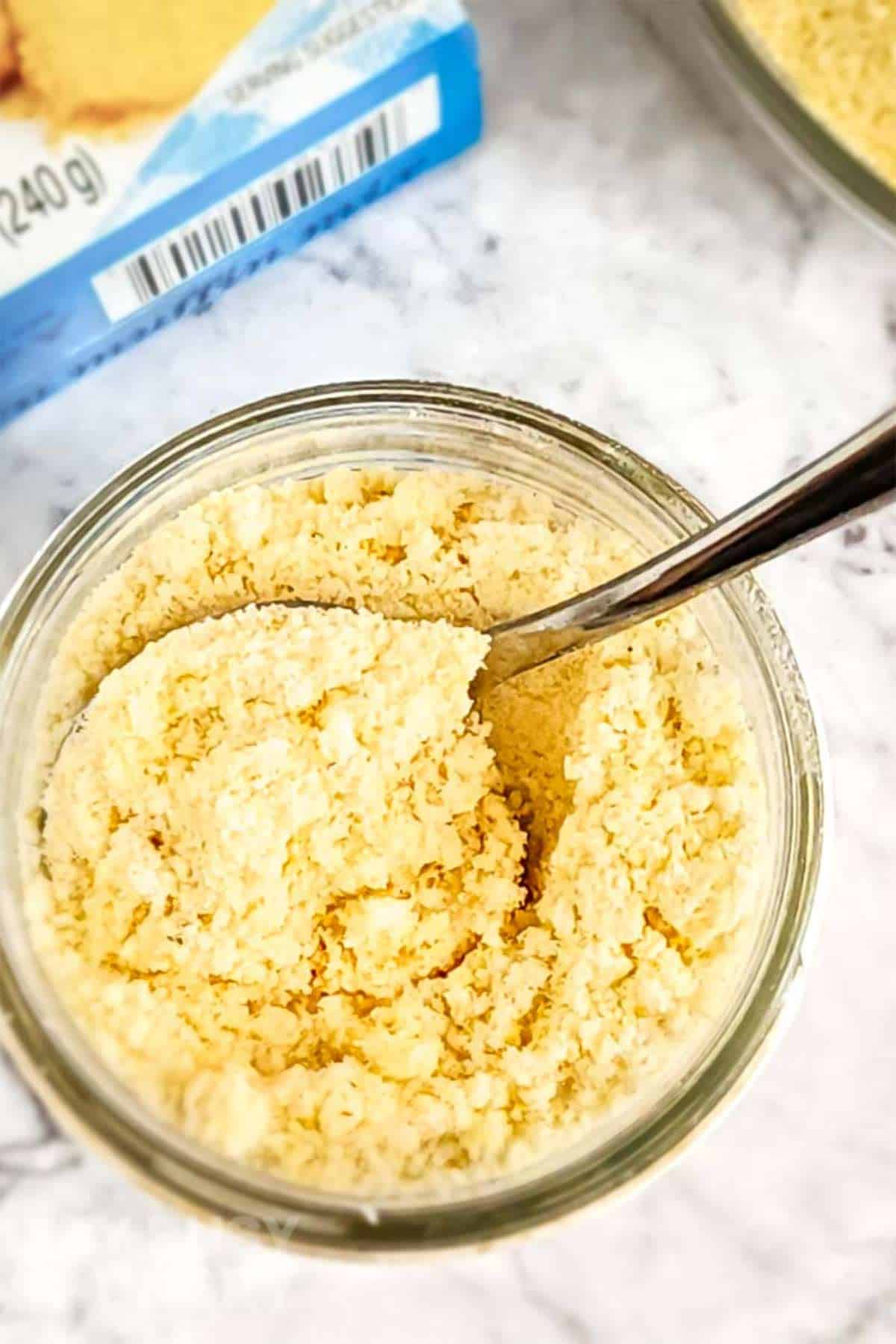 Jump to:
💚 Why You'll Love This Recipe
Have you ever been hit with the craving for quick and delicious cornbread? Or even a batch of warm buttered corn muffins? Keep this copycat Jiffy corn muffin mix handy and never be stuck with that craving!
With just 6 ingredients that you probably have sitting in your pantry already, you can easily whip up this cornbread mix and keep it around for whenever the mood strikes.
Use it to make a side of cornbread, corn muffins for breakfast, or even as a homemade ingredient in this Corn Dog Casserole! You'll love this preservative-free cornbread mix.
🧂 Ingredients Needed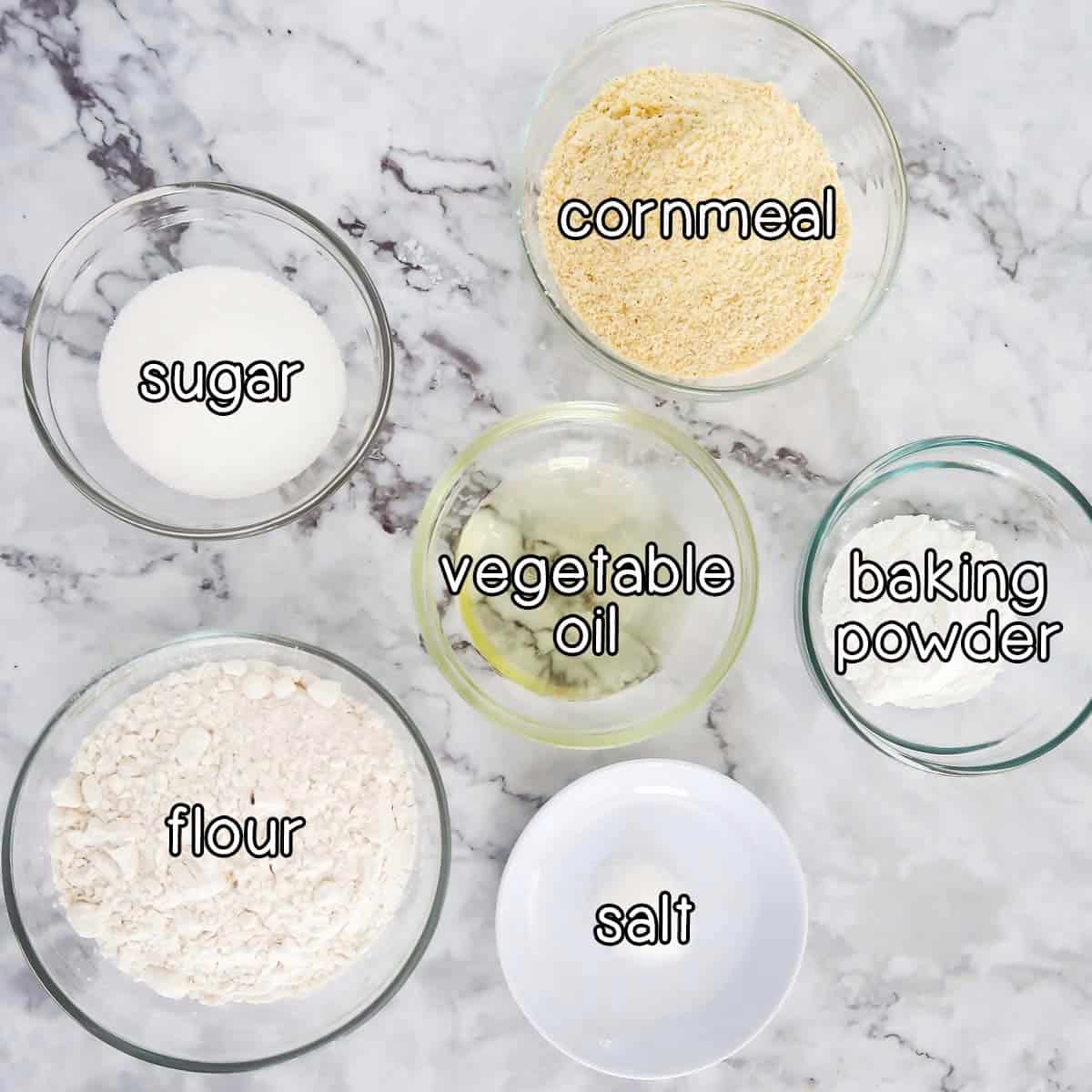 flour - all purpose flour is the best option here.
cornmeal - choose a fine or medium ground corn meal, coarse will result in a tougher cornbread that takes longer to bake.
sugar - feel free to substitute with another kind of sweetener.
baking powder
salt
vegetable oil - helps the dry ingredients come together into a cohesive mixture.
🔪 Instructions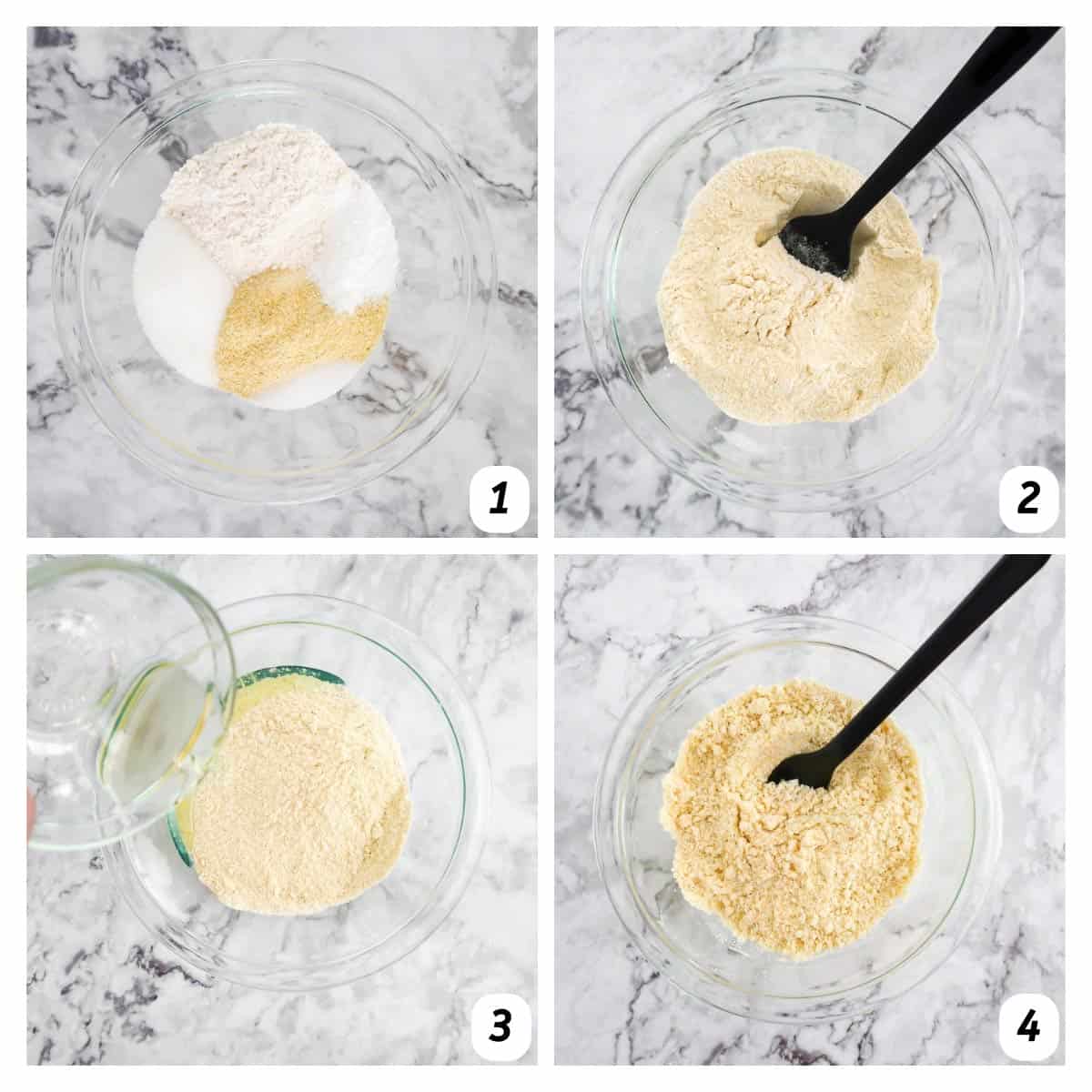 Add flour, cornmeal, sugar, baking powder, and salt to a large bowl.
Stir until well combined.
Pour in the vegetable oil.
Mix together until the ingredients form a crumbly but cohesive mixture.
❔ FAQs
Are cornmeal and cornbread mix the same thing?
No, but cornmeal is one of the ingredients present in cornbread mix. The mix will have additional ingredients like flour, sugar, and salt for additional body and flavor, as well as a leavening agent like baking soda for a fluffier texture.
Can I use Jiffy corn muffin mix instead of cornmeal?
No, the two aren't interchangeable. Some recipes will require true cornmeal on its own, and using corn muffin or cornbread mix will add extraneous ingredients to the recipe that might disrupt it.
Is there a difference between corn muffin mix and cornbread mix?
For all intents and purposes, this copycat Jiffy corn muffin mix can be used to make either. In general, corn muffins tend to be a bit sweeter than cornbread. This mix does contain sugar and lands somewhere in between, resulting in something more like Jiffy sweet cornbread. Feel free to adjust the sugar depending on how sweet you like your cornbread or corn muffins!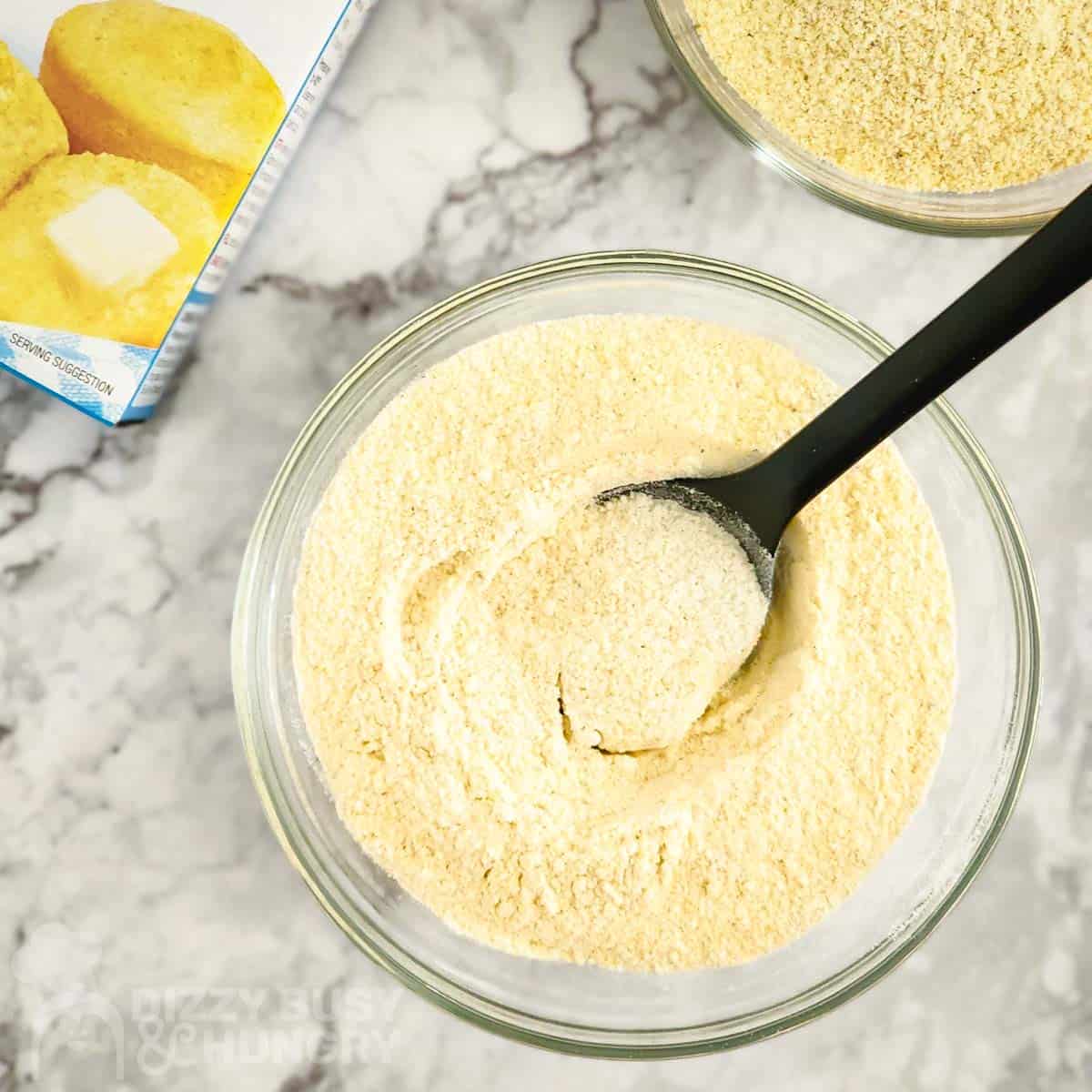 💭 Expert Tips and Tricks
For best results, use fresh and high quality ingredients. This is especially important for the cornmeal, flour, and baking soda.
Depending on how long you plan to store the mix, it may be wise to hold off on adding the vegetable oil until it's time to make your cornbread or muffins.
Here's a quick overview on how to make muffins from this mix (find more detailed instructions in the recipe notes): combine one batch of cornbread mix with an egg and ⅓ cup milk. Spoon 3 tablespoons of the mixture into lined muffin tins, then bake for 11-13 minutes at 400 degrees F.
📌 You love this super easy copycat Jiffy corn muffin mix! It stores so well and can be made with common ingredients. Great for when you have a sudden craving for cornbread or muffins!
💡 Substitutions and Variations
Add more sugar if you like your cornbread sweeter. Corn muffins also tend to include more sugar, so you may want to add more in case you're making muffins as well.
There are a number of additional ingredients you can add for flavor variations. Just before baking, add shredded cheddar cheese, diced jalapeno peppers, or even chopped herbs like rosemary, thyme, oregano, sage, or basil.
🥫 Storage
Keep the prepared mix in an airtight container in a cool, dry place. Be sure the mix is out of direct sunlight. It should last about six months, but be sure to give it a good mix when it comes time to use it to ensure everything still looks and smells alright.
🍴 What To Serve With This Dish
This Jiffy cornbread mix makes for a delicious side for any dinner, from quick weeknight meals to holiday feasts! Serve with Air Fryer Steak Bites or 20 Minute Creamy Pesto Pasta for a fast and satisfying weeknight dinner, or pair with a Slow Cooker Whole Chicken or Roasted Red Pepper Soup.
✔️ More Baked Goods You'll Love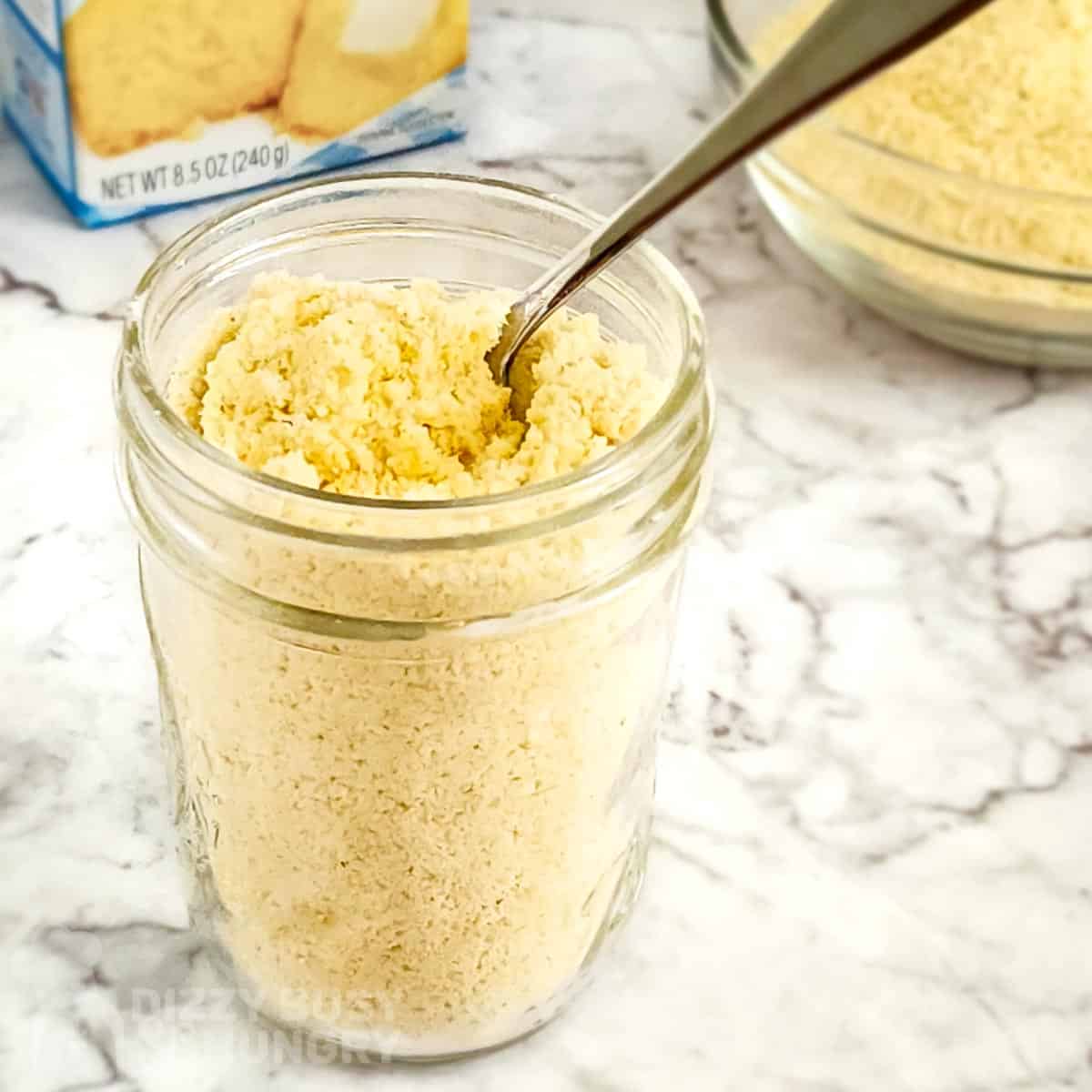 Homemade Jiffy Corn Muffin Mix
Love this recipe? Awesome! Snap a photo and tag me on Instagram. You can find me at DizzyBusyandHungry or #dizzybusyandhungry!
⭐ Did you make this recipe? Please give it a star rating below! ⭐
📋 Recipe Card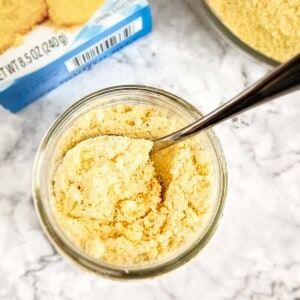 Copycat Jiffy Cornbread Mix
Mix together a batch of this easy Jiffy Cornbread Mix so you have easy access to healthier and more affordable cornbread or muffins any time!
Instructions
Mix the flour, cornmeal, sugar, baking powder, and salt.

½ cup flour,

½ cup cornmeal,

2 tablespoons sugar,

1 tablespoon baking powder,

½ teaspoon salt

Drizzle the vegetable oil into the dry mixture. Using a fork or your hands, blend the oil with the dry ingredients until the mixture becomes crumbly and evenly coated with oil.

2 tablespoons vegetable oil
Notes
Use high-quality cornmeal and all-purpose flour for the best results. Fresh baking powder is essential as well.
If you plan to store the mix for a while, you may want to hold off on adding the the vegetable oil and store the dry mix as it is. You can add the vegetable oil when you are ready to use the mix in a recipe.
Transfer the prepared mix (with the oil or without) to an airtight container or a resealable plastic bag. Store it in a cool, dry place away from direct sunlight.
You can add some sugar if you prefer a sweeter cornbread.
Some variations when using this mix to make cornbread or muffins: Add shredded cheese, chopped jalapenos, or herbs to enhance the flavor.
To make muffins with this mix:

Preheat the oven to 400 degrees F.
Combine the cornbread mix with 1 egg and ⅓ cup milk.
Spritz 6 muffin liners with a little baking spray or cooking spray (optional, but it makes it easier to remove the liner from the muffin after baking) and place them in the muffin tin wells.
Measure out about 3 tablespoons of muffin batter into each muffin liner.
Bake for about 11-13 minutes.
Nutrition
Calories:
637
kcal
|
Carbohydrates:
135
g
|
Protein:
14
g
|
Fat:
5
g
|
Saturated Fat:
1
g
|
Polyunsaturated Fat:
2
g
|
Monounsaturated Fat:
2
g
|
Sodium:
1178
mg
|
Potassium:
1536
mg
|
Fiber:
9
g
|
Sugar:
25
g
|
Calcium:
535
mg
|
Iron:
6
mg
Nutritional information is an estimate. The nutritional values for your final dish may vary based on measuring differences and products used.
Want to make cooking even easier?
Sign up here to receive FREE DBH exclusive content, including my favorite kitchen shortcuts and hacks, and unlock access to the DBH resource library with many other free downloads!