These tasty and safe-to-eat No Bake Cookie Dough Bars come with a decadent chocolate glaze! They're so easy to make and perfect for preparing ahead and freezing for later.
You'll love this take on no bake cookie dough that's ideal for when you don't want to turn on the oven to make cookies. Excellent as a sweet snack or dessert!
Jump to:
💚 Why You'll Love This Recipe
Looking for a new way to make no bake chocolate chip cookies with a tasty layer of extra chocolate? Or do you just have a sweet tooth and you're having some cookie dough cravings? These edible cookie dough bars are your new favorite dessert.
Completely safe to eat without any baking required, these dessert bars taste just like classic chocolate chip cookies. They're topped with a homemade chocolate glaze for a decadent and satisfying dessert experience!
And if you can't get enough of cookie confections, try these PB Oreo Stuffed Chocolate Chip Cookies as well!
🧂 Ingredients Needed
brown sugar - adds sweetness and that classic slightly caramel-like taste that will make your cookie bars taste just like chocolate chip cookies.
butter - use unsalted so you can control how much salt goes into the recipe.
milk - helps the dry ingredients come together.
vanilla - provides an extra layer of delicious flavor.
salt - balances out and emphasizes the sweetness.
flour - brings all of the ingredients together into a single dough.
mini chocolate chips - I've found mini chocolate chips work great here, but any size will do!
chocolate glaze - made with powdered sugar, cocoa powder, milk, and vanilla, this optional glaze topping is a fantastic way to finish off your cookie bars.
🔪 Instructions
In a large mixing bowl, cream together the butter and brown sugar.
Add milk, vanilla, salt, and about half of your flour. Mix until combined, then gradually add the rest of the flour and continue to stir.
Fold in the chocolate chips.
Press into a prepared 8x8 pan in an even layer and place in the fridge for at least 2 hours. Top the cookie dough layer with homemade chocolate glaze if desired.
❔ FAQs
Why are my cookie dough bars hard?
This is most often a result of overmixing, which can cause the gluten in the flour to develop too much. Be sure to stir in the flour until just combined. You could also substitute a gluten-free flour like almond flour, coconut flour, or oat flour to remedy this issue.
Can you eat cookie dough without baking?
Unless specifically prepared to be eaten without baking, eating raw cookie dough can be harmful. Raw eggs can contain salmonella.
How do you make flour safe for edible cookie dough?
If you want to be extra safe with your no bake cookie dough bars, you may want to heat treat your raw flour. This will eliminate potential microbes or bacteria that would otherwise be dealt with in the baking process.

To heat treat, simply heat the flour to at least 160 degrees F. An easy way to do this is to spread your flour on a baking sheet and place in an oven at 350 degrees F for about 5 minutes, then use a food safe thermometer to check the temperature.
💭 Expert Tips and Tricks
If you do make the homemade glaze, be aware that it will remain slightly soft. For a chocolate layer that will harden, instead melt some chocolate chips or candy melts and pour those over top of your cookie dough bars.
Don't overmix the dough to avoid your no bake cookie dough becoming tough or hard.
For an added level of safety, heat treat your flour to eliminate potentially harmful contaminants.
An 8x8 pan is perfect for these cookie dough bars, but you can also use a loaf pan or a different sized square baking pan.
📌 No bake cookie dough is a delicious treat that the whole family will love. Complete with a sweet top chocolate layer, these dessert bars are a fun and yummy take on no bake chocolate chip cookies!
💡 Substitutions and Variations
Other kinds of chocolate chips can be used. Regular sized chocolate chips will work fine, or you could chop up some baking chocolate. Just be sure whatever you use is easy to eat, since it won't melt at all--no baking!
Non-dairy milk can be used in both the cookie bars and the glaze.
Feel free to stir in other mix-ins as well. Pretzel pieces, chocolate candies, almonds, peanuts, hazelnuts, coconut, and cereal would make delicious additions to your no bake chocolate chip cookies.
The chocolate topping is entirely optional and can be replaced with a drizzle of chocolate syrup, melted dark chocolate chips, chocolate ganache, or even a sprinkle of flaky sea salt.
Serve alongside a nice scoop of ice cream
🥫 Storage
Leftover cookie bars should be kept in the fridge. Keep them in their pan and cover well with plastic wrap, or cut into small squares and transfer to an airtight container. They should last for up to a week.
You can also keep your no bake treats in the freezer for months at a time. Just be sure to transfer them to the fridge at least 24 hours ahead of serving so they properly thaw.
🍴 What To Serve With This Dish
Before you enjoy this edible cookie dough recipe, be sure to have a filling and nutritious meal! Serve your no bake cookie dough bars after a meal of One Pot Zucchini Mushroom Pasta, a hearty serving of One Skillet Garlic Chicken with Rice, after a quick and easy Air Fryer Orange Glazed Salmon dinner, or alongside this delicious Crock Pot Pizza.
✔️ More Cookie Recipes You'll Love
No Bake Cookie Dough Recipe
Love this recipe? Awesome! Snap a photo and tag me on Instagram. You can find me at DizzyBusyandHungry or #dizzybusyandhungry!
⭐ Did you make this recipe? Please give it a star rating below! ⭐
📋 Recipe Card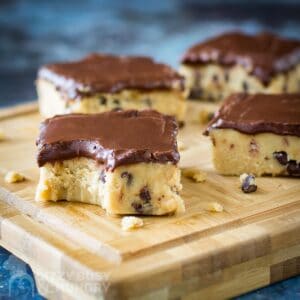 No Bake Cookie Dough Bars
This recipe yields delicious no bake chocolate chip cookies with a soft and decadent chocolate glaze for a classic dessert anytime!
Equipment
1 Hand Mixer or Stand Mixer
Ingredients
For the bars:
Instructions
Prepare an 8x8 pan by lining it with parchment paper.

Place the brown sugar and butter in a large bowl. Mix with a hand mixer until smooth and creamy. (Or use a stand mixer if desired.)

1 cup brown sugar, packed,

½ cup unsalted butter, at room temperature

Add the milk, vanilla, salt and about half the flour. Continue to mix, and as they become combined, add in the rest of the flour until the mixture forms a dough.

⅓ cup milk,

1 teaspoon vanilla,

½ teaspoon salt,

1 ⅓ cups flour

Add the chocolate chips and mix.

¾ cup mini chocolate chips

Place the dough in the prepared pan and press to move the dough to all the edges and corners and create a flat top. Place in the refrigerator for at least 2 hours.

When ready to make the glaze, sift together the powdered sugar and cocoa powder to remove any lumps.

1 ½ cups powdered sugar,

⅓ cup cocoa powder

Add the milk and vanilla to the dry ingredients and mix to combine. Adjust the thickness by adding more powdered sugar to thicken or more milk to thin.

¼ cup milk,

½ tablespoon vanilla

Remove the pan from the fridge and spread the glaze on top. Return to the refrigerator until ready to serve. When serving, lift the dough out of the pan using the parchment paper, then place on a cutting board and cut into 16 square bars.
Notes
The glaze remains a little soft. If you would like the topping to be more of a hard chocolate layer, melt 1 to 1 ½ cups chocolate chips and pour on top of the bars. That topping will set and become firm.
You can substitute water for the milk in the glaze if desired.
Non dairy milk can be used in the bars and/or in the glaze.
If you don't serve these the same day you make them, you can keep them in the prepared pan in the fridge if you cover it with plastic wrap.
Store the cookie dough bars in an airtight container in the refrigerator for up to a week.
These no bake cookie dough bars can be frozen. To thaw, place in the refrigerator at least 24 hours ahead of time.
Nutrition
Calories:
237
kcal
|
Carbohydrates:
40
g
|
Protein:
2
g
|
Fat:
8
g
|
Saturated Fat:
5
g
|
Polyunsaturated Fat:
0.3
g
|
Monounsaturated Fat:
2
g
|
Trans Fat:
0.2
g
|
Cholesterol:
17
mg
|
Sodium:
87
mg
|
Potassium:
73
mg
|
Fiber:
1
g
|
Sugar:
30
g
|
Vitamin A:
213
IU
|
Vitamin C:
0.1
mg
|
Calcium:
38
mg
|
Iron:
1
mg
Nutritional information is an estimate. The nutritional values for your final dish may vary based on measuring differences and products used.
Like this recipe?
Sign up here for my email list and receive new recipes to your inbox, plus a FREE recipe ebook!