These succulent fresh or imitation crab cakes are spiced just right for kids and adults alike! These are ready in 20 minutes, believe it or not, with simple ingredients and not a lot of filler. If you are looking for imitation crab recipes, be sure to bookmark this one!
My family was completely surprised that I made these myself, because they taste like they're from a fancy restaurant. But they were quick to prepare and cook! Serve these easy crab cakes straight from the stove or place on a bun.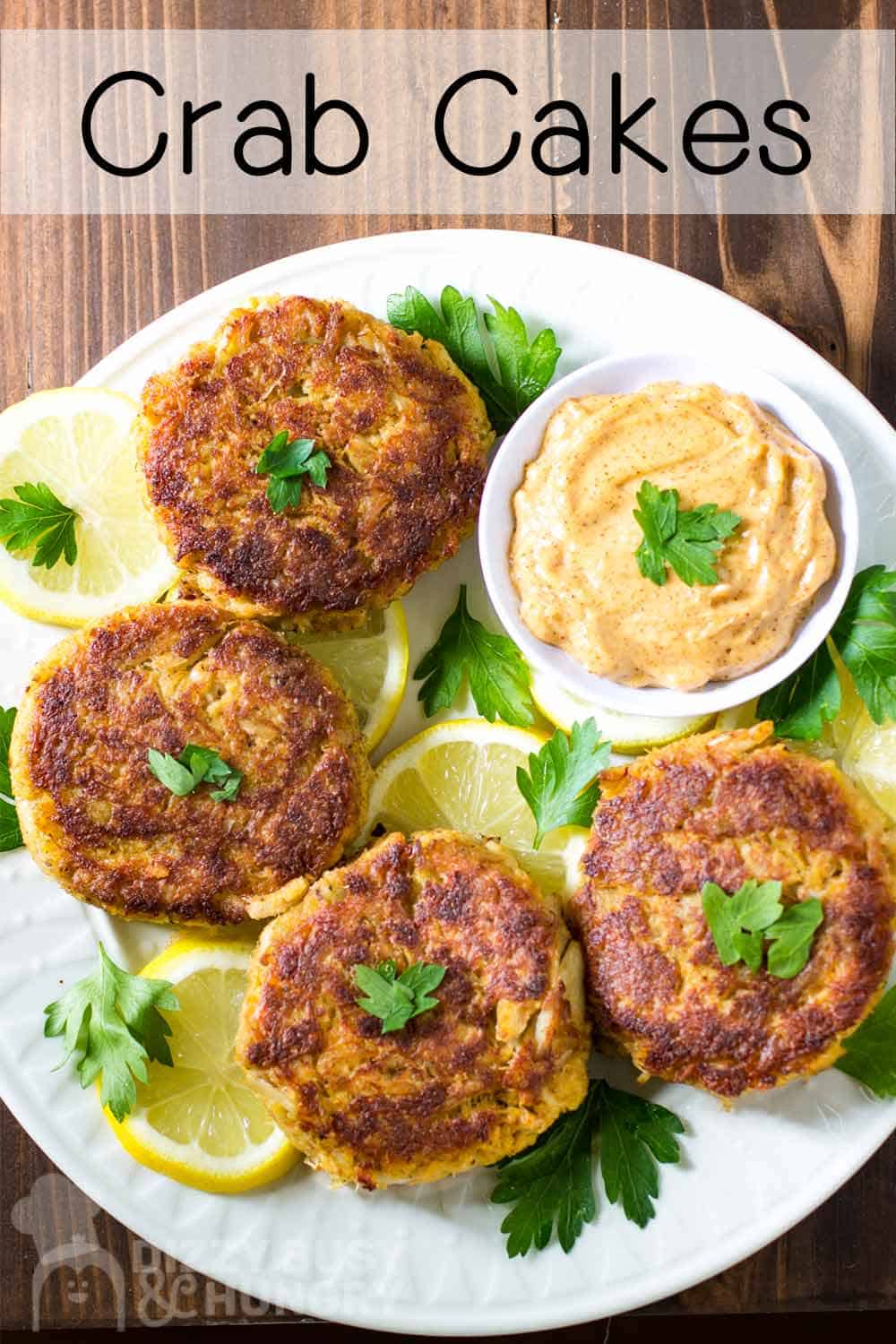 Jump to:
👩🏻‍🍳 Crab Cakes Back Story
Originally this post was published (in 2013) as a crab cake burger recipe. But, after serving it many times, it turned out that the family prefers these without all that bread! So I'm updating it as a recipe for crab cakes, but of course you can still serve them on buns.
Why might you prefer to serve these classic crab cakes on a bun? Sometimes younger kids will have more of an open mind to try things if they are served on a bun. At least that was the case with my kids when they were little.
Easy enough for busy weeknights, elegant enough for a special occasion...that's my kind of main course recipe! This recipe makes 6 fairly large crab cakes, so if you have a crab lover or two in your family, you might want to plan to make a double batch.
This recipe has evolved over the years to better suit my family's tastes and also to streamline the preparation as much as possible in order to make it a great option for weeknight dinner prep. I also have adjusted it so that I can save money by using imitation crab without sacrificing much of the flavor that we love.
So if you are looking for imitation crab recipes, you've found a good one right here! This crabcake meal works really well even with fake crab meat, because the yummy seasonings create a result that minimizes the differences between the real and imitation crab.
And remember that imitation crab is actually made from fish, so either way you are still eating seafood. And imitation crab recipes are much more affordable than using real crab meat.
🥘 Ingredients Needed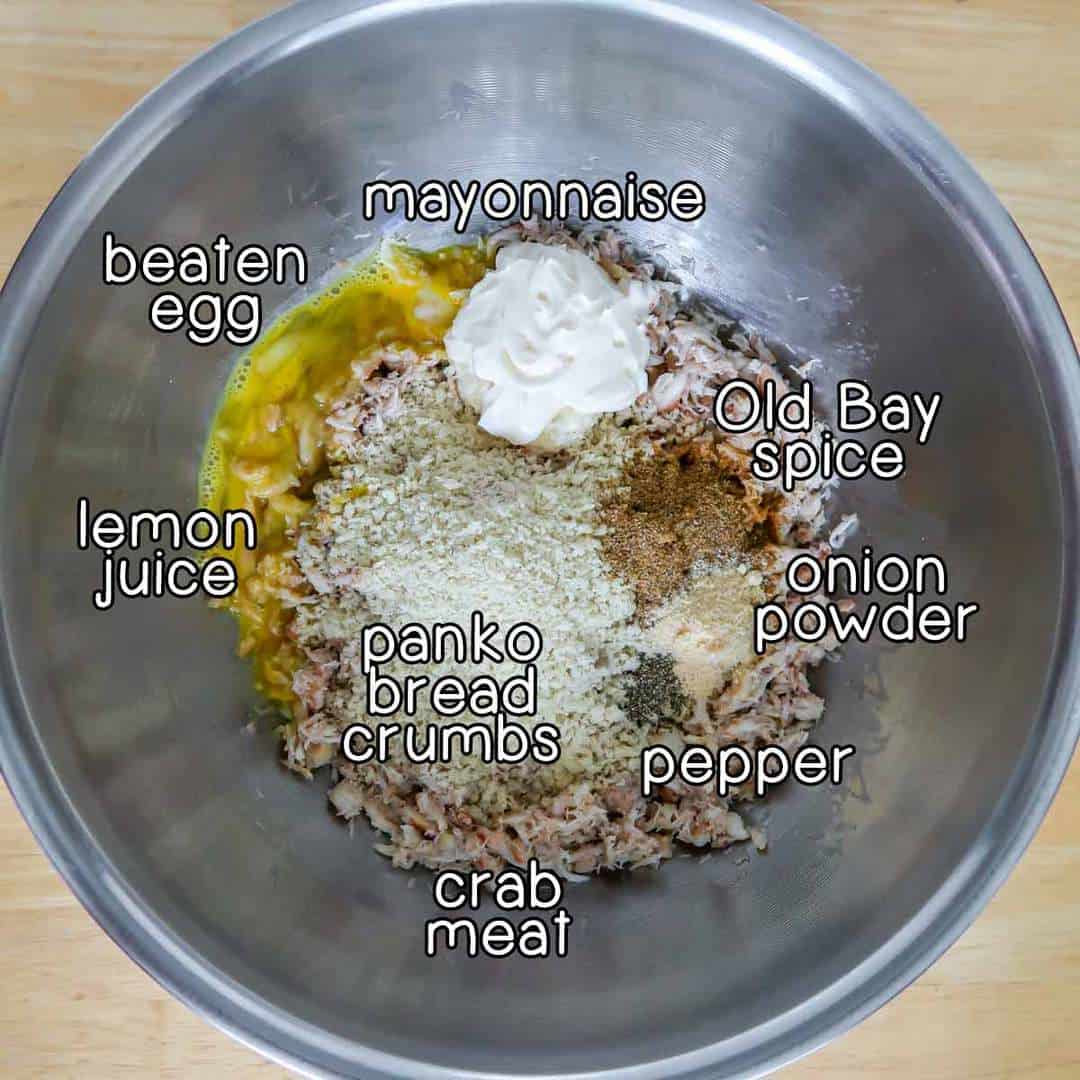 crab meat - there is so much good nutrition in crab meat, including those wonderful omega-3 fatty acids as well as vitamin A, vitamin C, and a bunch of B vitamins. Crab is also low in fat, high in protein, and is considered a low-risk seafood for mercury. You can use fresh crab meat (canned) or even imitation crab meat.
egg - helps to hold the crab cakes together.
panko bread crumbs - adds a bit of texture and ensures that the patties don't fall apart.
mayonnaise - for a touch of creaminess.
Old Bay seasoning - a classic seasoning for any seafood dish.
lemon juice - a bit of acidity to help develop the flavor profile.
onion powder - this will add a punch of extra flavor.
pepper - to contrast the saltiness of the onion powder/Old Bay.
🔪 Instructions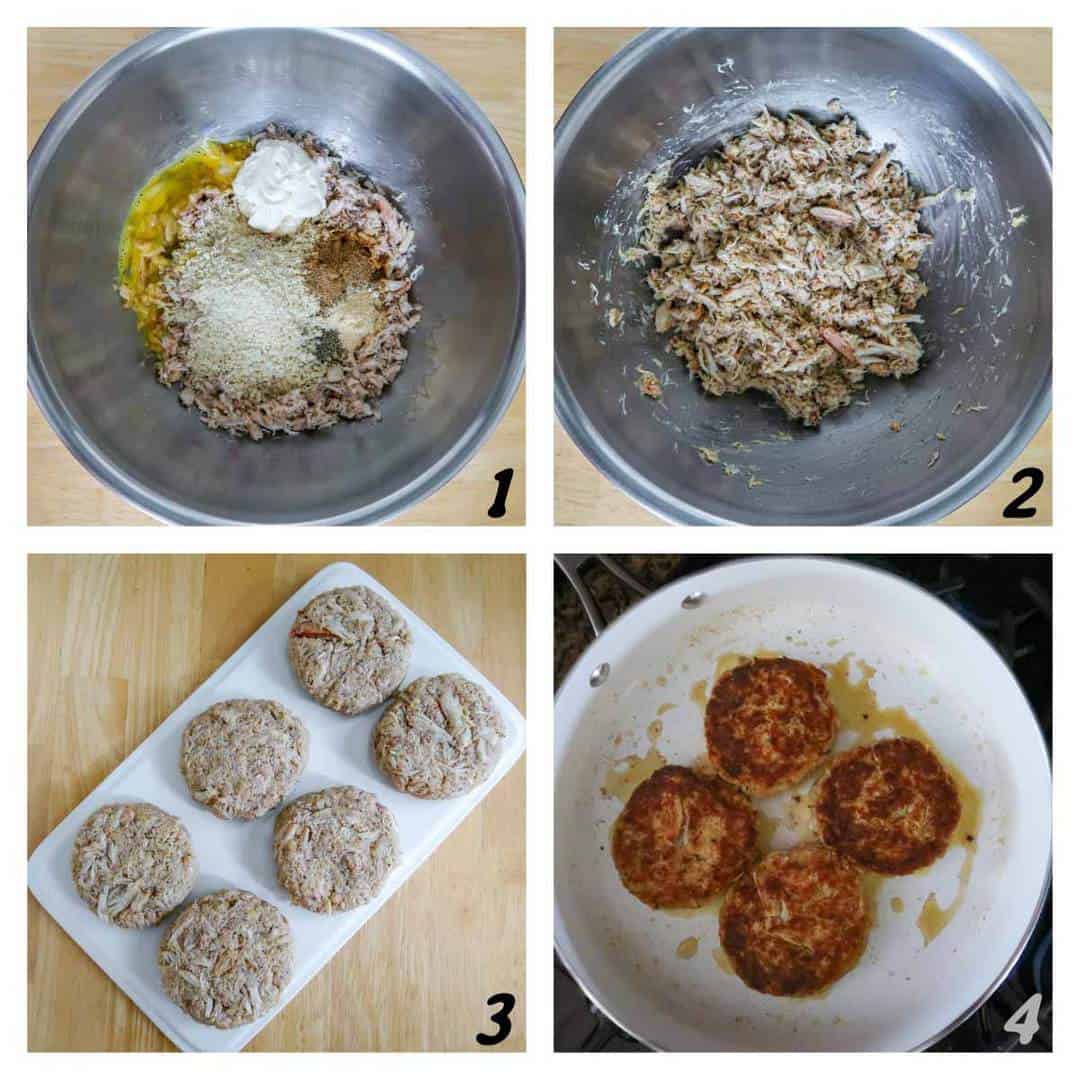 Place crab, egg, Panko breadcrumbs, mayonnaise, Old Bay seasoning, lemon juice, onion powder and pepper in a large bowl.
Mix this together thoroughly.
Form your crab mixture into 6 patties.
Heat some butter (or olive oil or other substitute) in a large skillet over medium heat, then cook the patties until they're golden brown. It should take about 5 minutes per side.
You can serve these crab cakes right from the stove, or place them on buns and serve as sandwiches!
👪 FAQs
Do I have to use real jumbo lump crab meat?
Not at all! Imitation crab meat is a great substitute and works just fine with this recipe.
What is imitation crab meat?
Imitation crab does actually contain some traces of real crab meat in some cases, but for the most part it's composed of a fish paste called surimi, which is made from pollock. This product is typically low in fat and calories as a result, and high in protein. It's also more affordable than classic crab meat. It's a great alternative to use in many recipes with crab!
What are the benefits of using real crab?
In all honesty, the very best crab cakes are made with real crab. Fresh crab is best, and canned crab is a close second. While on the pricier side, jumbo lump crabmeat won't have any kind of added starches or sugars that are often used to enhance the flavor.

The taste of real crab is also more genuine, and the texture tends to be flakier and not as chewy. It really comes down to personal preference and price point; either real crab or imitation would work just fine with this recipe!
Can I make these crab cakes ahead of time?
Yes; if you need to make the patties a significant amount of time before cooking (like a few days or more), form and place on a parchment-lined tray and freeze for 2 hours. Then, wrap them individually in plastic wrap and place them back in the freezer. They can last up to 3 months this way. To cook them, follow the regular instructions, but be sure to defrost in the fridge overnight.
Can I store these crab cakes once they're cooked?
Absolutely! If you know you'll be eating them soon (as in the next 3-5 days), wrap the leftover crab cakes in plastic and/or place them in an airtight container in the fridge.

You can also store them in the freezer the same way for up to 3 months. Wrap them tightly in plastic wrap or foil before placing them in the freezer.

If you use foil to wrap them, you can actually reheat them in the oven right in the foil, which is so convenient! To reheat from refrigerated or frozen, pop them in the oven and bake until heated through.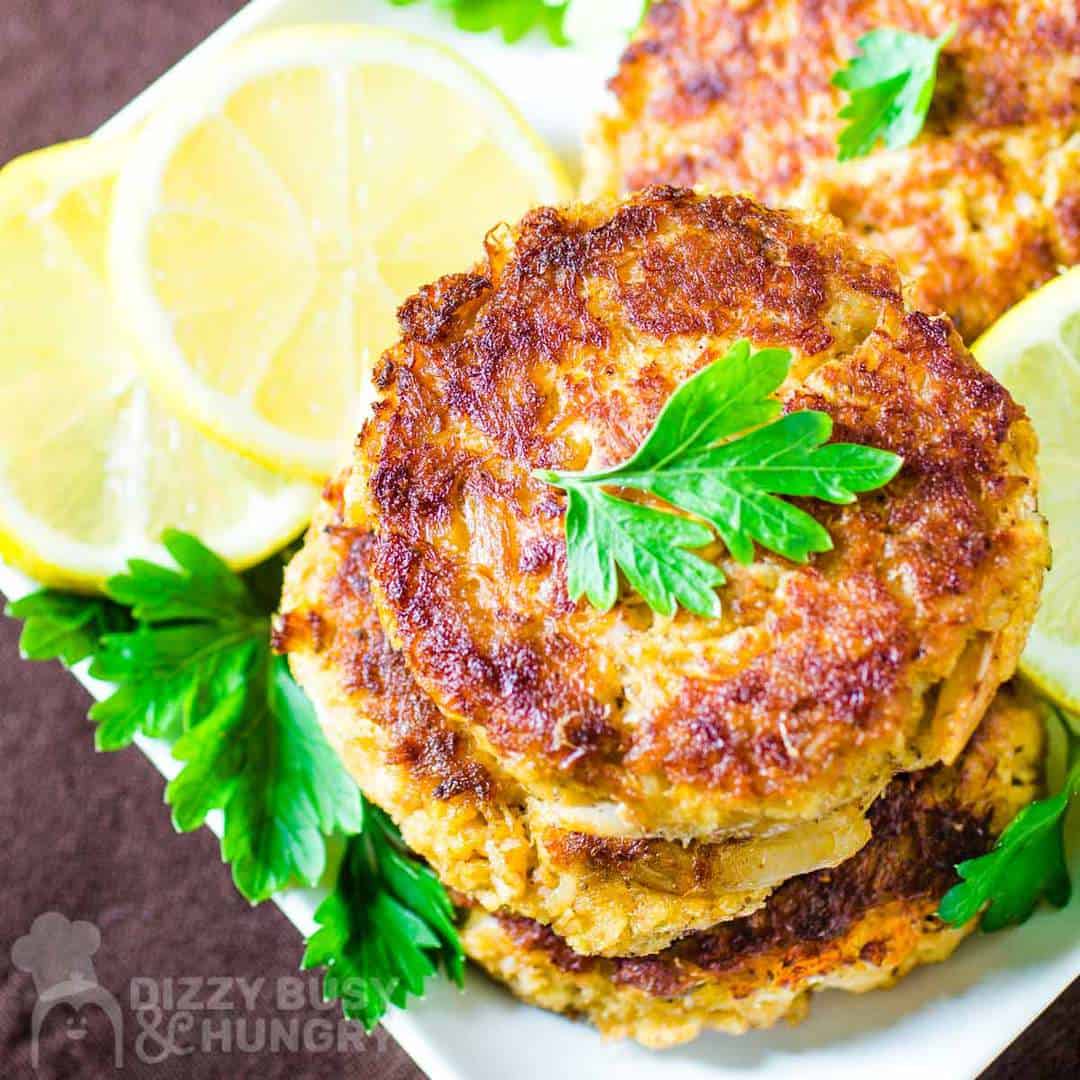 💭 Top Tips
If you're using imitation crab, try running it through a food processor or blender first. This will ensure small enough pieces to create consistent texture and imitation crab cakes that won't fall apart!
Some people are allergic to shellfish, so you need to be watchful if this is the first time you are introducing crab to your kids. (And of course, you only want to try this if you are willing to share your seafood from now on!)
If you are using fresh lump crab meat, look through it a bit before using it in this recipe to remove any stray shells.
Be gentle when combining the crab with the other ingredients to keep as much of the crab meat lumped together as possible.
If you are making more crab cakes than will fit in your skillet, when the first batch is done, place them on a baking sheet and put the in the oven warmed to abut 200 degrees F to keep them hot while your next batch is cooking.
🦀 Types of Crab Meat
Jumbo Lump - this is the most expensive because there is not much of this type of meat on a crab. However, it is also the most substantial!
Lump - this is less expensive than the jumbo lump crab meat, but still really substantial and good in crab cakes.
Backfin - this crab meat is a bit flakier than the lump types. It's from the body of the crab and so there is more of it on each crab and hence it's less expensive.
Claw - this is the least expensive of the real crab options. The taste of claw crab meat is a little stronger and most people prefer either the jumbo lump, lump, or backfin crab meat for a good crab cake.
Imitation crabmeat - this is the least expensive option. With food being so expensive these days, I'm more likely to choose this option.
❔ Choosing The Best Kind Of Crabmeat
It make take some trial and error to find a good brand that has consistently good fresh crabmeat at the price point you want. Here are some things to look for:
Make sure the product is mostly chunks of the crab itself. A small amount of additives/preservatives is normal, but if there's too much you may not be getting your money's worth.
Of course, the crab shouldn't smell bad or have an off-color to it. If the product smells heavily of salt or other chemicals, this is a bad sign. Go for crab that smells fishy and natural.
You can mix types of crab meat to stretch your dollar farther. You can even mix real crab with imitation crab to get taste of traditional crab cakes without breaking the budget!
Serve these delicious crab cakes with tartar sauce and lemon wedges, or some cocktail sauce, or even a dash of hot sauce. Top with some fresh parsley for a fresh and pretty presentation!
📖 Variations
While these homemade crab cakes are already quite flavorful, you can to play around with additional spices to add into the mixture to switch things up!
You can substitute roughly chopped cooked shrimp (or even chopped cooked scallops) for the base.
Add in some finely chopped bell peppers, celery, or scallions for extra texture and taste.
Serve these crab patties as they are or slap them on a bun; a crab cake sandwich with chipotle mayo or tartar sauce would be delicious.
Try Cajun seasoning instead of Old Bay seasoning to change up the flavor profile a bit. (This is especially good with the imitation crab cakes.)
An easy way to vary this recipe is to serve it with a sauce or dip. Something as simple as mustard or a delicious Thai-style sweet chili sauce can change everything!
🍴 Suggested Side Dishes
Though these delicious and easy real or imitation crab cakes will surely be the star of whatever meal you're serving, here are some great ideas for a supporting cast of tasty sides!
Cilantro Lime Dip - Delicious served with tortilla chips and margaritas, or use as a flavorful topping on fish, chicken, or burgers!
Quinoa Chickpea Salad - Nutritious and delicious, this dish can be served as a side dish or a light meatless entree.
Parmesan Dill Dinner Biscuits - Delicious whole wheat dinner biscuits jazzed up with dill and parmesan cheese, perfect as starters or companions to just about any entree!
Chipotle Lime Cole Slaw - Wowee! This easy cole slaw has SO much flavor, you won't believe your taste buds!
Hearty Homemade Corn Chowder - Cozy up to a big bowl of this homemade corn chowder! Easy to make with either fresh or frozen corn, it's a great year-round soup!
🍥 Additional Seafood Recipes
Here are a few more more seafood ideas for you!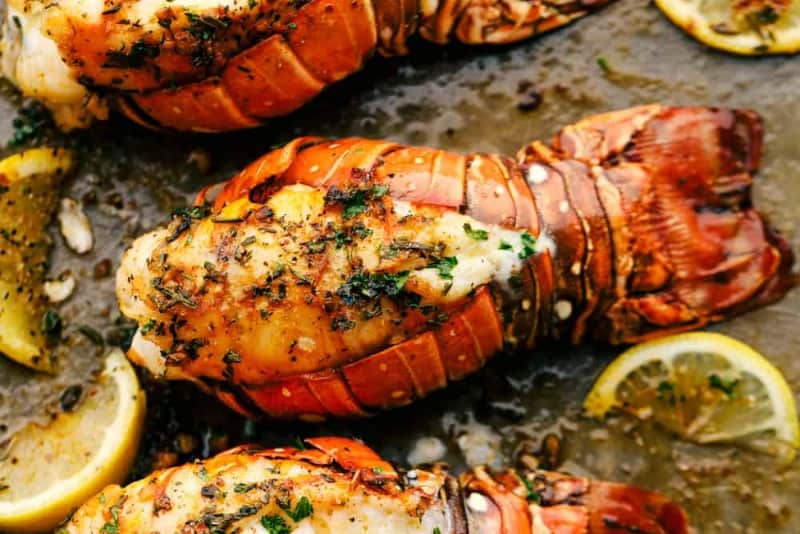 Real or Imitation Crab Cakes
Love this recipe? Awesome! Please give it a 5 star ⭐ rating below! And if you make this, snap a photo and tag me on Instagram. You can find me at DizzyBusyandHungry or #dizzybusyandhungry!
📋 Recipe Card
Crab Cakes
Looking for the best crab cake recipe that is easy enough for anyone to make? These succulent crab cakes made with either imitation crab or real crab are spiced just right for kids and adults alike. This is a restaurant-quality meal that's super easy to make!
Ingredients
16

ounces

lump crab meat (1 can)

(see the NOTES for instructions to use imitation crab)

1

egg

(lightly beaten)

½

cup

panko bread crumbs

¼

cup

mayonnaise

2

teaspoons

Old Bay spice

(or more - season to taste)

1

tablespoon

lemon juice

1

teaspoon

onion powder

¼

teaspoon

black pepper

3

teaspoons

butter

(or substitute)
Instructions
Place crab, egg, bread crumbs, mayonnaise, Old Bay spice, lemon juice, onion powder and pepper in a large bowl.

16 ounces lump crab meat (1 can),

1 egg,

½ cup panko bread crumbs,

¼ cup mayonnaise,

2 teaspoons Old Bay spice,

1 tablespoon lemon juice,

1 teaspoon onion powder,

¼ teaspoon black pepper

Form mixture into 6 patties.

Heat butter in a skillet over medium to medium-high heat. Cook the patties until they are browned on each side, about 5 minutes per side.

Serve straight from the stove, or place on hamburger buns for crab cake sandwiches.
Notes
To use imitation crab (which is much less expensive than the real thing), pulse it through the food processor just once or twice, or just chop it finely, for a better texture in your crab cakes.
You can even mix real crab with the chopped imitation crab to get closer to that real crab taste without breaking the budget!
You can form the patties ahead of time and refrigerate for a day or two, or freeze for up to 3 months, prior to cooking. If you freeze them, thaw them in the refrigerator overnight and then follow the above instructions to cook them.
Or, you can cook them ahead of time and then refrigerate or freeze. Thaw frozen patties overnight in the refrigerator prior to reheating. Reheat in the oven at 350 degrees until hot. If they start to get dried out, loosely cover with aluminum foil.
Try with chipotle mayo, dijon mustard, or tartar sauce for even more flavor!
If you have trouble with your crab mixture falling apart as you are forming it into patties, try adding a little flour or even a little more of the bread crumbs. Not too much, though! A little goes a long way.
Nutrition
Calories:
150
kcal
|
Carbohydrates:
5
g
|
Protein:
15
g
|
Fat:
7
g
|
Saturated Fat:
1
g
|
Cholesterol:
64
mg
|
Sodium:
760
mg
|
Potassium:
174
mg
|
Vitamin A:
100
IU
|
Vitamin C:
6.3
mg
|
Calcium:
48
mg
|
Iron:
0.8
mg
Nutritional information is an estimate. The nutritional values for your final dish may vary based on measuring differences and products used.
Want to make cooking even easier?
Sign up here to receive FREE DBH exclusive content, including my favorite kitchen shortcuts and hacks, and unlock access to the DBH resource library with many other free downloads!
Update Notes:This post was originally published in August 2013, but was republished with tips, step by step photos, and a recipe change in August 2020, and then updated further with additional helpful information in May 2022.