If you like crock pot recipes, you will love this easy Crock Pot Chicken Thighs in Honey Beer Sauce recipe for a flavorful chicken dinner for your family! The chicken is cooked slowly and is perfectly seasoned in the slow cooker.
Have you had chicken that is cooked so well that it practically melts in your mouth?
Slow cooker chicken thighs cooked in a honey beer sauce did just that.

I really do love crock pot recipes. And chicken is one of our favorite things to cook in a crock pot. Over the weekend, we made my slow cooker chicken cacciatore and it was so good. Everyone loved how amazing it was and I loved that I didn't have to put too much effort into it.
Sometimes, I like to change things up and add a few Indian flavors in a slow cooker chicken recipe. The slow cooker Indian butter chicken recipe really takes the chicken to a whole new taste level.
But the same old chicken recipes can get dull and boring.
So, I am always looking for new flavor combinations to mix things up a bit.

I have cooked seafood in beer before, but never chicken, so I thought it might be interesting to try! If it can make seafood taste like heaven, then how amazing would beer chicken taste, right?
I decided to add a little honey for some sweetness, soy sauce for some saltiness, and mustard for a little tang. It turned out so delicious, I have made this many times over already!
You can use different kids of beer to get different flavors in this dish. I have used whatever we happened to have handy in the fridge, from Coors Light to Sam Adams Winter Lager, and I think once I even used a Pilsner Urquell (shhhh, don't tell DH I used his favorite beer!)
For this crockpot recipe, use boneless skinless chicken thighs for best results. They cook faster and they are juicier. The beer works through the whole chicken, so, the chicken will easily dissolve in your mouth. Use fresh or frozen chicken thighs for this recipe.
A common question I have been asked about this recipe is, "how long to cook chicken in crock pot". I have found that these crock pot chicken thighs cook to perfection in 6 hours. Anything less than that and the chicken is under cooked.
So, in my experience, the magic number is 6 hours and 10 minutes! I start it at about 1pm in the afternoon and its ready by dinner time which makes my life so much easier! While the slow cooker is doing its thing, I get so much work done.
And, also get some much needed me-time!
I have decided that I will make slow cooker recipes once a week, so, that I can get keep my to-do list very short.
If you are a fan of garlic, add a few cloves of garlic in these chicken thighs recipe. The garlic really brings out the flavors of the chicken and beer. Also, your kitchen is going to have a delicious aroma while they are cooking in the slow cooker.
Crock pot recipes have become a fan favorite on my Facebook page. If you are not following me there, you are missing out on some really fun stuff. Stop by and share your recipe ideas or just come by to say hello.
Interested in some other crock pot recipes with chicken?
Easiest Slow Cooker Chicken and Wild Rice
Crockpot Mushroom Artichoke Chicken
Crockpot Cheeseburger Recipe
Or, check out my popular Oven Baked Boneless Chicken Thighs with Jalapeno Artichoke Topping for another easy, flavorful weeknight dinner option!
Crock Pot Chicken Thighs in Honey Beer Sauce
If you love this recipe, please give it 5 stars!
I also invite you to follow me on FACEBOOK, PINTEREST, or INSTAGRAM to keep up with what's going on in my kitchen.
📋 Recipe Card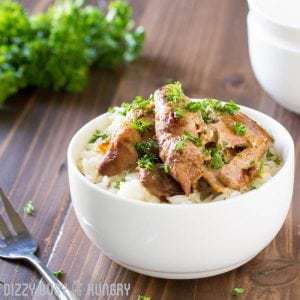 Crock Pot Chicken Thighs in Honey Beer Sauce
Easy recipe for creating a flavorful chicken dinner for your family!
Ingredients
Instructions
In a medium bowl, whisk together the soy sauce, honey, and mustard


3 tablespoons soy sauce,

2 tablespoons honey,

1 ½ tablespoons Dijon mustard

Set it aside


Cover the bottom of the crock pot with the chopped onion and garlic


1 cup chopped onion,

3 cloves garlic

Add the chicken thighs on top of the onion.

2 ½ pounds boneless skinless chicken thighs

Pour the beer over the chicken

Pour the soy sauce mixture over the chicken.

Cook on low for 6-8 hours.

Serve over rice or noodles.
Nutrition
Serving:
1
g
|
Calories:
274
kcal
|
Carbohydrates:
9
g
|
Protein:
37
g
|
Fat:
7
g
|
Saturated Fat:
1
g
|
Cholesterol:
179
mg
|
Sodium:
673
mg
|
Potassium:
529
mg
|
Sugar:
7
g
|
Vitamin A:
45
IU
|
Vitamin C:
2
mg
|
Calcium:
25
mg
|
Iron:
1.8
mg
Nutritional information is an estimate. The nutritional values for your final dish may vary based on measuring differences and products used.
Want to make cooking even easier?
Sign up here to receive FREE DBH exclusive content, including my favorite kitchen shortcuts and hacks, and unlock access to the DBH resource library with many other free downloads!
Thanks for stopping by. Be sure to check out my Dizzy Busy and Hungry store on Amazon for some great kitchen products I love!
Enjoy!