Crock Pot French Toast Casserole is easy to make and delicious! If you're looking for breakfast inspiration, look no further. Wake up to the enticing aroma of this warm and hearty meal that is sure start your day off right!
Update Notes: This post was originally published in January 2015, but was republished with tips, step by step photos, and a recipe change in September 2020.
Jump to:
👩🏻‍🍳 Cranberry Apple French Toast Recipe Back Story
Hey, all you breakfast-makers out there! Moms, Dads, whoever you are, if you make breakfast for your family in the morning, you probably love recipes like this where you can get everything set the night before and wake up to a hot breakfast just waiting for you!
I confess, I am not a much of a breakfast-maker myself. Breakfast around here is always an 'every man for himself' proposition. Years ago, as soon as the boys achieved enough coordination to be able to pour their own cereal and milk, I got myself out of the breakfast-making game (woohoo!).
I even helped the process along by putting out bowls of cereal the night before and placing small cups of milk in the refrigerator where the boys could easily reach them. But, this kind of recipe brings out the breakfast-maker in me, since I can do the work the night before and have a hot, delicious breakfast waiting for me in the morning.
And I can't neglect to mention that I am a HUGE proponent of breakfast for dinner! Eggs, bacon, pancakes, waffles, omelettes – you name a breakfast food and I will tell you that we have had it for dinner. Sooooo, sometimes I put this together in the morning and then serve it for dinner!
Can you imagine Cranberry Apple French Toast just waiting for you after a long, tiring day??? Life does not get much better than that! 🙂
For another delicious casserole recipe, try this Easy Hamburger Casserole!
❓Why make this recipe?
It's perfect for a brunch or busy morning when you're trying to pull together a hands-free meal. That way you get to enjoy time with your family or work on your project than spend all morning flipping French toast!
Making it in the crock pot is brilliant because rather than trying to keep slices warm in the oven while you're still cooking ensures the entire meal is done at the same time. Plus it's wonderful meal for brinner (breakfast for dinner)!
🥘 Ingredients Needed
French or other hearty bread
almond milk or regular milk, plus half & half
eggs
sugar or sugar substitute
apples - whatever variety you prefer
dried cranberries
🔪 Instructions
Dice the bread into cubes.
Spray the slow cooker with cooking spray. Add the bread, apples and cranberries and mix slightly.
Whisk or use a hand mixer to combine the milk, eggs, half & half, vanilla, cinnamon, syrup, and sugar.
Pour mixture over the bread using a spoon to make sure all the bread get soaked. Cover and cook on low for 5-6 hours.
👪 FAQs
What kind of bread should I use?
I prefer to use a loaf of French bread. You could also use sourdough, brioche or ciabatta. Buttery croissants would also be delicious! I wouldn't recommend plain white or wheat bread, it will turn mushy.
How do I serve this meal?
Top with warm maple syrup, crushed walnuts and sprinkling of powdered sugar or a dollop of whipped cream for the ultimate treat!
How long does Crock Pot French Toast Casserole keep?
Cover and refrigerate leftovers. They will last 2-3 days. Reheat by microwaving at 1 minute intervals.
Does this need to be prepped overnight?
You certainly can prep it - slicing and dicing the bread would speed up meal prep the next day. This is a wonderful for a holiday morning breakfast or brunch!
💭 Top Tips
I recommend cube-ing (is that a verb? lol) the bread in advance - you'll save time when you're ready to toss everything together.
Serve with softened butter and warm maple syrup on the side for those that want to indulge.
Or drizzle with an icing glaze like this 2 ingredient Greek yogurt icing for a really special treat!
📖 Variations
Almost any type of dried fruit can be substituted for the cranberries - dried blueberries, cherries, apricots or raisins.
You could also substitute frozen blueberries or peaches - wouldn't that be delicious?!!!
Adding a cup of chopped nuts - pecans or walnuts would add a delicious crunch to this yummy breakfast!
🍴 Suggested Side Dishes
There is so much deliciousness in this meal you really don't need a whole lot else! A nice fruit salad would be a wonderful pairing and how about some breakfast potatoes? That would round out the meal nicely!
Whatever you serve it with, keep it simple! This Crock Pot French Toast Casserole is the star of the show!
🍳 More Breakfast Recipes from the Blog
Some of my favorite recipes are the simple effortless ones. If you love this Crock Pot French Toast Casserole as much as we do check out these recipes as well!
Slow Cooker Maple Cinnamon Oatmeal - it's warm and hearty. A delicious, affordable way to start the day! Or try this recipe for Bacon Breakfast Casserole - the smell of that bacon roasting as this bakes will get everyone to the table! Or perhaps this overnight casserole is what you're looking for!
If you're still hungry for French toast there are more recipes on the blog for you to enjoy!
Banana Cinnamon French Toast
You're going to really love this classic Banana Cinnamon French Toast Recipe. Perfectly grilled until golden brown with crispy fried edges, this is a meal everyone loves!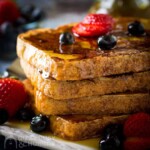 Love this recipe? Awesome! Please give it a 5 star ⭐ rating below! And if you make this, snap a photo and tag me on Instagram. You can find me at DizzyBusyandHungry or #dizzybusyandhungry!
📋 Recipe Card
Slow Cooker Cranberry Apple French Toast
Wake up to the enticing aroma of this warm and hearty breakfast that is sure to give your family a great start to their day!
Ingredients
1 ½

pounds

French bread or other hearty bread

1 ½

cups

almond milk

(or regular milk)

6

large eggs

1

cup

half & half

(use fat-free if desired)

1

tablespoon

vanilla

1

tablespoon

cinnamon

¼

cup

pure maple syrup

2

apples, cut into bite sized pieces

(I used gala)

½

cup

dried cranberries

(plus additional for garnish, if desired)
Instructions
Cut the bread into approximately 1 inch cubes.

1 ½ pounds French bread or other hearty bread

Spray the slow cooker with cooking spray, and add the bread, apples, and cranberries, and mix slightly.

2 apples, cut into bite sized pieces,

½ cup dried cranberries

Using a whisk or hand mixer, combine the milk, eggs, half & half, vanilla, cinnamon, and syrup.

1 ½ cups almond milk,

6 large eggs,

1 cup half & half,

1 tablespoon vanilla,

1 tablespoon cinnamon,

¼ cup pure maple syrup

Pour mixture over the bread cubes in the slow cooker, using a spoon to make sure all the bread get soaked.

Cover and cook on low for 5-6 hours.
Notes
You can use all milk if you don't have half & half on hand.
This dish is pretty sweet on it's own with the maple syrup, so no need to add additiona sugar.
No need to peel the apples. I used a wedger to core them and then I simply sliced each wedge into 4 or 5 pieces.
If you have the option for your slow cooker to switch itself to the 'Warm' setting, it is good if you can do that after about 4 hours for less burning around the edges. However, no one in my family minded those 'more cooked' pieces, they were still delicious!
If you need more than 5-6 hours of sleep (like me!), hopefully there is a night owl in your family (my husband) who can turn the crock pot on for you before they go to bed.
Nutrition
Calories:
858
kcal
|
Carbohydrates:
144
g
|
Protein:
30
g
|
Fat:
17
g
|
Saturated Fat:
7
g
|
Cholesterol:
267
mg
|
Sodium:
1115
mg
|
Potassium:
507
mg
|
Fiber:
7
g
|
Sugar:
42
g
|
Vitamin A:
620
IU
|
Vitamin C:
5
mg
|
Calcium:
314
mg
|
Iron:
7.6
mg
Nutritional information is an estimate. The nutritional values for your final dish may vary based on measuring differences and products used.
Want to make cooking even easier?
Sign up here to receive FREE DBH exclusive content, including my favorite kitchen shortcuts and hacks, and unlock access to the DBH resource library with many other free downloads!