This refreshing Fruit and Vegetable Salad is super simple and so yummy! You only need 20 minutes to make this crunchy, tangy, and delicious summer salad with fruits and veggies. It's served with a light, tasty dressing that makes you want more. Perfect either as a side dish or a light entree on a hot summer evening!
Jump to:
👩🏻‍🍳 Why You'll Love This Recipe
Now that warmer weather is finally here, I am really in the mood for fresh salad and seasonal produce. There's nothing I love more than enjoying fresh summer vegetables, especially when I can get them from local farmer's markets!
And the fruit is just amazing, too! So I decided to figure out how to make salad with fruits.
It's a great time of year for enjoying a Kale Caesar Salad or a Strawberry Spinach Salad. I love how fresh and crisp the produce is this time of year, it's just perfect for whipping up a healthy salad any day of the week.
And while I love those standard green salads, sometimes it's also nice to whip up something a little different. This veggie salad was created by simply taking some of my family's favorite fruits and raw vegetables, chopping them up, adding a citrus-y dressing, and VOILA!
And guess what? This vegetable salad recipe was published in the Summer 2020 issue of Farmhouse Style magazine! They loved it and it's definitely one of my favorite easy recipes for spring and summer.
Some other reasons I love this recipe?
This fruit and vegetable salad is guilt-free. So you can heap a big bunch on your plate and munch away!
The dressing is super easy to make without any weird components like some of the store-bought dressings. Only 3 ingredients!
It's a great way to get your kids to eat fruits and veggies. (There are many variations so you can pick the ingredients your kids will be most likely to eat.)
The sunflower seeds add a nice nutty crunch, which I love!
It looks so colorful, fresh, and pretty, especially when served in a crisp, green romaine lettuce leaf.
The best part of this for me is that I can just keep munching and munching on it and not have to worry about consuming a lot of carbs or calories. It reminds me of one of my favorite snacks, Chipotle Lime Edamame, which has SO much flavor but is also really good for you (and also has sunflower seeds, yum!).
Another good-for-you snack that I love is my Raspberry Frozen Yogurt (no sunflower seeds in this one, LOL), or this delicious and unique Burrata Salad with Fruit.
🥘 Ingredients Needed
Fresh Vegetables:
cucumbers - English cucumbers work best because they are a little sweeter than regular cucumbers, and their skin is a but more tender. But you can use any cucumbers in this recipe.
red pepper - I like to use red for the nice splash of red color, but you can use yellow here as well. Green bell peppers don't work as well in this recipe because of their strong flavor.
romaine lettuce leaves - optional, for serving.
Fresh Fruits:
strawberries - brings a nice tart flavor and a punch of color
grapes - seedless work best
Other Ingredients:
fresh basil - rounds out the flavor profile
sunflower seeds - bring a little crunch and nutty flavor
extra virgin olive oil - you can substitute canola oil if needed
lime - fresh is best but you can use bottled lime juice in a pinch.
salt - to balance out the sweetness and acidity of the lime juice
🔪 How To Make Salad With Fruits
Chop the cucumber into bite-sized pieces.
Clean the red bell pepper, removing the seeds, and then chop into bite-sized pieces.
Trim and slice the strawberries.
Cut the grapes in half (makes it easier to eat them with a fork).
Chop the fresh basil.
Place all the fruits and vegetables in a large bowl and add in the sunflower seeds.
Juice the lime and combine with the olive oil and salt.
Pour the dressing into the bowl.
Toss to coat.
Serve this green salad with fruit on large, fresh, crisp lettuce leaves.
👪 FAQs
Is this salad good for you? Don't fruits have a lot of sugar?
Fruits do have sugar, but it is a natural sugar and not a processed sugar. Fruits are more satisfying in general than items containing processed sugar, so you are less likely to overeat them. And, they also contain fiber, vitamins, antioxidants!
Which vegetables are good for salad?
Just about any of your favorite vegetables can be used to make a light salad. Some of them are good raw (cauliflower, broccoli, cucumber, zucchini) and some of them are better if they are lightly steamed or blanched first to make them tender (brussels sprouts, green beans, butternut squash, sweet potatoes).
Can fruit and vegetable salad be frozen?
This recipe doesn't freeze well, due to the high water content of the ingredients. It will last a few days in the refrigerator, but I don't recommend freezing it.
How long can a vegetable salad stay in the fridge?
Generally it will stay good for about 3 days, if your produce was very fresh when you started.
Can I make this into a pasta salad?
Absolutely! Rotini or penne work great. You will want to make some extra dressing to make sure everything gets well-coated!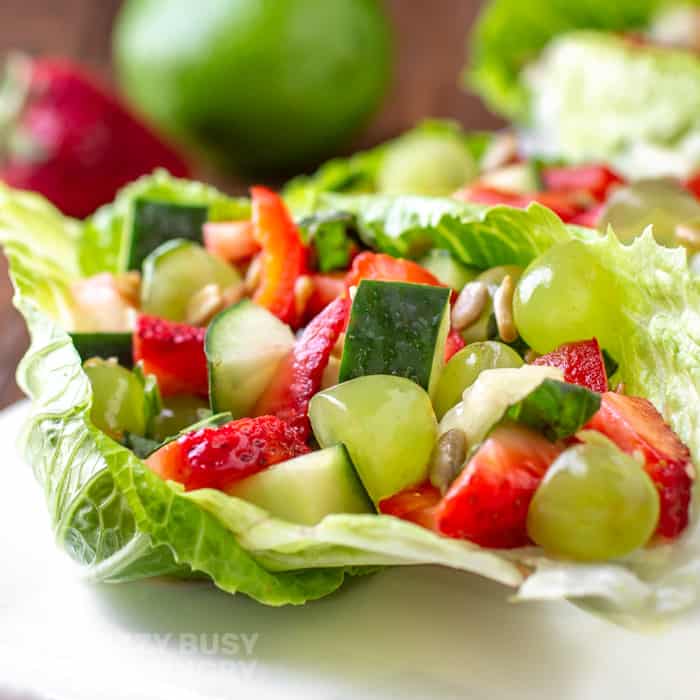 💭 Expert Tips and Tricks
Don't forget to wash your produce thoroughly and pat it dry. You don't want any extra liquid in the finished salad, so patting dry is important.
If you are making the salad and then transporting it to a picnic, I recommend that you leave the sunflower seeds out until right before serving. That way they will still be nice and crunchy when everyone digs in.
If your family likes basil, go ahead and add more than called for in the recipe. I often add more basil because we all enjoy it so much.
The fresh ingredients and vibrant colors of this Vegetable Salad with Fruit makes it a perfect side dish for your next barbecue or even a quick meal during the warmer summer months! It's also a great way to incorporate more fresh veggies and fruit into your family's diet!
📖 Substitutions and Variations
Not a fan of red bell pepper? Substitute chopped or shaved carrot.
You can add some chopped red onion or a touch of black pepper for an additional depth of flavor. Sweet onion will also work well in this recipe.
You don't have a lime or lime juice handy? Go ahead and use lemon juice! In a pinch, you could even use red wine vinegar.
Forgot the cucumber? Substitute 4 stalks of celery, chopped into bite-sized pieces.
If you want to cut down on the amount of prep, substitute raspberries for the strawberries and skip slicing the grapes.
Want to make the salad go farther? Add cooked chilled pasta, like rotini or penne, or even macaroni.
Feel free to substitute your favorite raw vegetables or fruits. Some that would work well would be cherry tomatoes (or sliced roma tomatoes), cauliflower, carrots, zucchini or yellow squash, apples, blueberries, etc.
Sprinkle a handful of feta cheese on top for some creamy, yummy goodness!
🔊 What readers are saying...
"I am so glad I found this simple and delicious salad recipe! I have been trying to shed a few pounds and looking for more healthy things to eat that I enjoy!! Looks like I hit the jackpot!"
- Heidy
🥫 Storage of Leftovers
If you have leftovers, store them in an airtight container in the refrigerator. When serving, take the container out of the refrigerator, toss the fruit and vegetables to re-coat them in the dressing, and then let it sit for about 30 minutes to warm up just a bit. This will help to bring out all the flavors.
The fruit salad with lettuce may be slightly less crisp than when served immediately after making it, but it will still be delicious!
Right before serving the stored salad, toss all the pieces again to coat with the dressing, then sprinkle more sunflower seeds for a fresh crunch. Use a slotted spoon to serve since there may be additional liquid in the bottom of the bowl.
⏲️ Make Ahead Instructions
This summer salad with fruit recipe has the best flavor when it is served immediately after preparing it. However, I like to complete most of the chopping ahead of time so that this recipe comes together really easily. Store all the components in separate containers in the refrigerator.
You can also mix the salad dressing ahead of time and store it in the refrigerator.
Right before serving, simply combine everything in a large salad bowl and toss to coat evenly.
💡 More Suggested Side Dishes for Your Barbecue
Honestly, there are so many great side dishes at barbecues that often I could do without the hamburgers, hotdogs, chicken, and ribs!
My family always looks forward to my Cornbread Casserole, and this Ramen Noodle Coleslaw is always a big hit as well. Sometimes I switch things up and serve a Chipotle Lime Coleslaw, just for a little variety!
And for dessert, this Berry Cheesecake Fluff is perfect for feeding a crowd!
🥗 More Salad Recipes You'll Love
Fresh Salad with Fruits and Veggies
This is a great side dish to serve with hotdogs and hamburgers, barbecued chicken, or any picnic food. You can serve this as a main entree for a light, meatless, oven-free meal. (Sometimes that's the best kind of dinner on a hot summer day!)
Love this recipe? Awesome! Please give it a 5 star ⭐ rating below! And if you make this, snap a photo and tag me on Instagram. You can find me at DizzyBusyandHungry or #dizzybusyandhungry!
📋 Recipe Card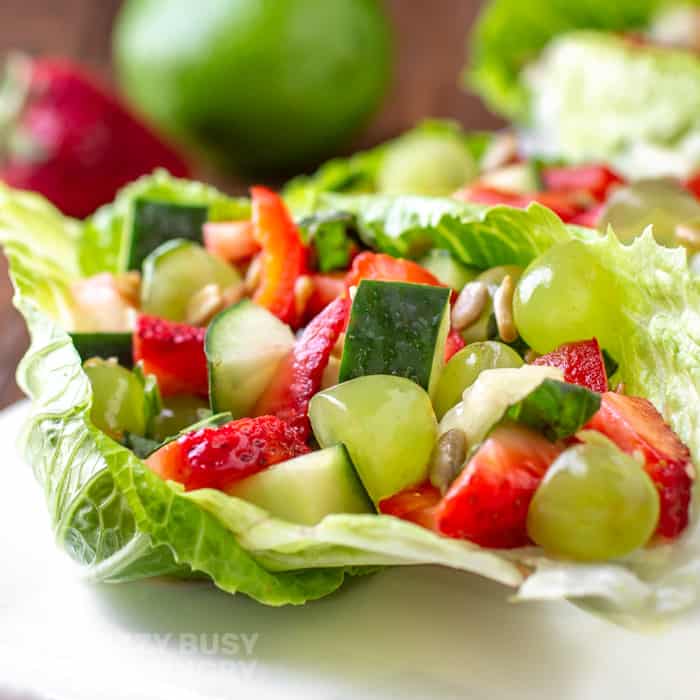 Fruit and Vegetable Salad
Crunchy, tangy, and refreshing, this salad is delicious either as a side dish or a light entree on a hot summer evening!
Ingredients
Instructions
Chop the cucumber, strawberries, grapes, and red bell pepper into bite sized chunks.

2 medium cucumbers,

8 ounces strawberries,

8 ounces grapes,

1 small red bell pepper

Juice the lime. In a small bowl, combine the lime juice, olive oil, and salt.

2 tablespoons olive oil,

1 lime,

½ teaspoon salt

Place the chopped fruits, vegetables, and basil in a large bowl. Add the sunflower seeds.

2 to 3 teaspoons sunflower seeds

Pour the dressing into the bowl and toss to combine everything thoroughly.

Spoon the salad onto romaine lettuce leaves for a fresh, pretty presentation.
Notes
Make sure you pat the produce dry after washing. You don't want any extra liquid in the finished salad.
This dish is best eaten right after preparing it. If you need to, chop the fruit and veggies ahead of time and then store in the refrigerator. That way you can quickly combine everything right before serving.
If you need to make the fruit and veggie salad and then transport it to a picnic, it's a good idea to leave the sunflower seeds out until right before serving so they don't get soggy during the trip.
If you don't have a lime, you can use about 2 ½ tablespoons of bottled lime juice instead.
Mix in some cooked chilled pasta for a heartier salad.
Substitute celery for cucumber, raspberries for strawberries, or carrot for red bell pepper, if your family would prefer any of those.
Nutrition
Calories:
148
kcal
|
Carbohydrates:
20
g
|
Protein:
2
g
|
Fat:
7
g
|
Saturated Fat:
1
g
|
Sodium:
296
mg
|
Potassium:
472
mg
|
Fiber:
3
g
|
Sugar:
15
g
|
Vitamin A:
1075
IU
|
Vitamin C:
80.8
mg
|
Calcium:
36
mg
|
Iron:
0.9
mg
Nutritional information is an estimate. The nutritional values for your final dish may vary based on measuring differences and products used.
Want to make cooking even easier?
Sign up here to receive FREE DBH exclusive content, including my favorite kitchen shortcuts and hacks, and unlock access to the DBH resource library with many other free downloads!
Update Notes: This post was originally published in June 2013, but was republished with tips, step by step photos, and a recipe change in May 2019 and enhanced with additional information in March 2022.