Check out this awesome list of easy shrimp dinners that are delicious, yet made with very little effort and time! Plus super helpful information, tips, and tricks to get tasty results every time!
"...shrimp is the fruit of the sea" - Bubba Blue, From Forest Gump (1994)
It's no secret that shrimp is a family favorite. We all love it!
Why do I love shrimp so much? There are tons of ways to cook it, and I just need a handful of shrimp to create a colorful and healthy dinner meal.
So get ready to impress your family or dinner guests with these amazingly tasty shrimp recipes!
Jump to:
💭 Tips for perfectly cooked shrimp
Shrimp cooks very quickly, so don't take your eyes off the pan when they are cooking. Ahem, learn from my mistakes 😂.
Grill shrimp with the shell on, if you can. The shell actually protects the shrimp from that extreme heat from the grill.
Don't throw away the shells. The shells are packed with so much flavor and nutrition, so, take advantage of that. They can be used in a shrimp bisque or in a seafood stock recipe.
You can easily overcook a shrimp because they cook in minutes. If the shrimp curls into a tight ball, then it's overcooked. The best way to tell is to take it's temperature. If the internal temperatures of shrimp reach 120°F (49°C), they are perfectly cooked.
Use the same-sized shrimp in a recipe. Never mix jumbo shrimp and medium shrimp in the same pan. Different sized shrimp have different cooking time and optimal cooking temperatures. You may end up with some shrimp that under cooked or over cooked if you mix sizes.
When marinating shrimp, the times vary based on your marinade. If it's made with acidic ingredients like lemon or orange, do not marinade for more than 30 minutes. If the marinade is made of butter, oil, herbs, etc, you can marinade the shrimp for about an hour.
Don't crowd the shrimp in a pan. Place them in a single layer with spaces in between so that the shrimp will cook evenly and quickly.
---
💲 How to buy shrimp
For me, it is important to maintain as much flexibility as possible in my meal planning. Buying frozen shrimp is a great way to have it on hand for those evenings when we are really in the mood for it or for when I need to get dinner on the table quickly (since it cooks really fast!).
Another important aspect is that it must be safe to eat. So I always look for wild-caught shrimp to avoid the toxins and other issues that can be found with farmed shrimp.
And of course, since I care about the planet, I look for sustainably caught seafood.
🧊 Working with frozen shrimp
Frozen shrimp is perfect to use because you don't have to worry about it spoiling soon after purchase. You can use frozen shrimp in any of these shrimp recipes and they will still turn out lip-smackingly good.
The best way to thaw shrimp is to remove the package from the freezer and place it in the refrigerator overnight. This is my favorite way to thaw it because the shrimp is evenly thawed when I am ready to cook it.
If you decided at the last minute that you want to make shrimp, there is a really easy way for you to defrost shrimp quickly. Place the shrimp in a colander and place it under running cold water until thawed.
I don't recommend using the microwave to thaw shrimp. Microwaving it ruins the taste, cooks the shrimp unevenly, and even hardens parts of the shrimp.
After you thaw the shrimp, pat it with a paper towel to remove any moisture from the shrimp. That moisture can make cause the shrimp to be cooked unevenly.
Once the shrimp has been thawed, don't freeze it again. Cook it as soon as possible!
---
🍤 Easy Shrimp Recipes
The next time you are craving shrimp, this collection will have you covered. So be sure to bookmark it and come back often!
The list below contains easy shrimp dinner recipes, instant pot shrimp recipes, and grilled shrimp recipes. Check it out - there's something for everyone!
🦐 Best Shrimp Dinners
Shrimp is not just an appetizer anymore. These recipes below are a surprisingly easy to make for a hearty dinner that will fill up every member of your family.
They all look so yummy, it's hard to decide where to start!
Butter brings out the best in shrimp, don't you agree?
Melted butter gets into every pore of the shrimp to flavor it with buttery goodness. I love biting into a shrimp and tasting the burst of flavored butter.
The butter is flavored with fresh herbs which just gives it a very distinct flavor. It also adds amazing colors to the butter and the shrimp.
You can never go wrong with shrimp in a rich tomato sauce! This tomato sauce is flavored with herbs that brings out the best flavors all the ingredients.
The best part of this recipe is that the ingredients are all in your pantry at any given time. So, if you get home late because traffic was a nightmare, this recipe is the perfect solution to get dinner on the table quickly and easily.
I keep frozen shrimp in the freezer just for those "bad traffic" days. On those days, I can get dinner on the table in 30 minutes. And it's a hearty, nutritious dinner...so much better than take-out!
There is something really special about recipes that are steeped in tradition. It makes that meal taste even better.
Fra Diavolo is an Italian recipe that Sarah's (of CookAtHomeMom.com) family consumed on Christmas Eve as part of the Feast of the Seven Fishes.
To keep the traditional alive for those who are on a gluten-free, Whole30, Paleo and/or low carb diet, she came up with this colorful shrimp Fra Diavolo.
You will fall in love with her recipe and her stories on family tradition. Be sure to leave a comment on her blog about how much you loved this recipe.
Just because you and I don't live in New Orleans, doesn't mean we have to miss out on a delicious po' boy sandwich!
Bintu from RecipesFromAPantry.com shows us how to batter and season shrimp perfectly. Then she assembles the largest po' boy sandwich ever!
(If you are a fan of HUGE sandwiches, then you will love my pull apart chicken sandwich! You will have to open your jaws really wide to get a bite of this sandwich.)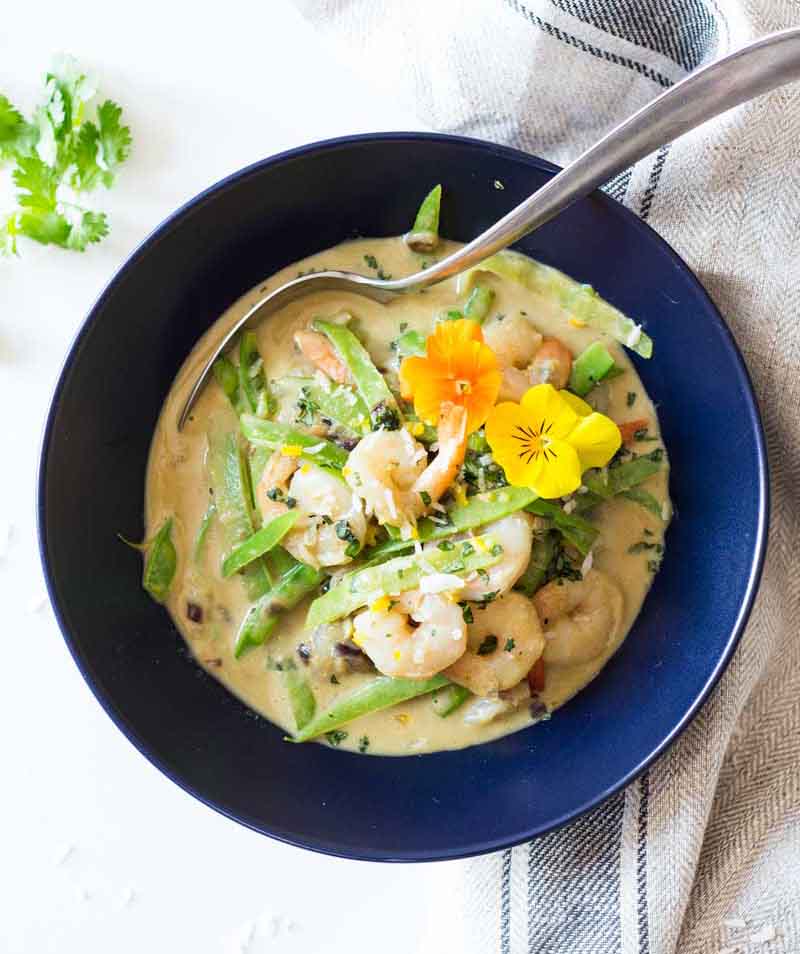 How delicious does that curry look?! Those colorful greens and yellows really make me want to make it for dinner TONIGHT!
Loretta of DiabetesStrong.com knows that healthy food doesn't have to be boring. She made this healthy recipe look so pleasing to the eye that anyone will want to dig in.
What makes this recipe even more appealing is that it takes only 20 minutes to make!
I am definitely saving this recipe for one of those "bad traffic" days!
Homemade pizza never looked so good! I don't think I will ever order out for pizza ever again!
There are shrimp, tomatoes and mozzarella on a fluffy naan bread. Couldn't be easier than that, right?
Kate from Babaganoush.com knows exactly how to make this pizza in just 20 minutes! Good pizza should take little time to make and more time to enjoy.
Shrimp, unlike pineapple (haha!), does belong on pizza. It adds some great texture to the pizza, along with some salty flavors.
You will want to make this your regular Friday night dinner recipe!
(If you would like more homemade pizza ideas, check out these recipes - Easy pan pizza, crab bacon pizza, bacon pizza and curried veggie pizza.)
Shrimp in a creamy, tangy soup! How can you say no to this big bowl of comforting soup!
I think I would easily eat 2 or 3 bowls of this soup and still want more of it. There are so many good ingredients in this soup that will make you come back for more!
Ayngelina of BaconIsMagic.ca is a genius when it comes to working with shrimp. She knows exactly what ingredients will compliment each other in this recipe.
This bowl is perfect for winter, fall, summer, and spring. Yes, eat it anytime of the year and you will feel so good after just one spoonful.
Like Brazilian flavors? I have a Brazilian fish stew that is so easy and delicious.
Who needs pasta when you can eat healthy zoodles, right?
Zoodles make the shrimp taste better and vice versa! Add a creamy avocado sauce and this will be a healthy, low-carb dinner meal.
My kids used to love eating this shrimp recipe. They would first pick out the shrimp and eat it. Then, they would roll the zuccini on their fork and devour it.
However you get the kids to eat healthy, it's a win for the parents!
Fettuccine Alfredo is fun to eat, but take it up a notch by adding shrimp to it. Now, you have a creamy and crunchy pasta meal that will make you want to lick your plate!
Shrimp is widely used Italian cooking. I have tasted some amazing pasta dishes in NYC's Little Italy that use shrimp wisely in their meals. Shrimp scampi is my husband's favorite recipe to try in Italian restaurants.
This shrimp recipe is inspired by my culinary adventures in Little Italy. I focused on how I can make it so easy that even busy parents like you and me can easily make it at home.
It will take you only 25 minutes to make this for dinner tonight. Add a side of homemade garlic bread and you will have dinner in about 35 minutes.
Doesn't get any better or easier than that!
Side note: Don't worry about the high calories in the Alfredo because I used a low calorie cheese in it.
---
🥘 Instant Pot Shrimp Recipes
I had no idea that you could cook shrimp recipes so quickly and perfectly in the instant pot. These recipes proof that the instant pot is a must-have kitchen tool to make your life even easier.
The best part is that most of these easy shrimp dinners don't need to be cooked for more than 5 minutes in the instant pot. This is a huge time saver without compromising on taste.
Now, are you ready to make these delicious instant pot shrimp recipes?
You probably have had beef and broccoli before, but, have you tried shrimp and broccoli?
Shrimp and broccoli with Asian flavors sauce is a great twist to the traditional Chinese takeout recipe.
Do you know how long you have to cook the shrimp in the instant pot? You will be surprised by how long Dianna of LittleSunnyKitchen.com puts them in the instant pot.
Check out the recipe today and be sure to tell her how much you loved it.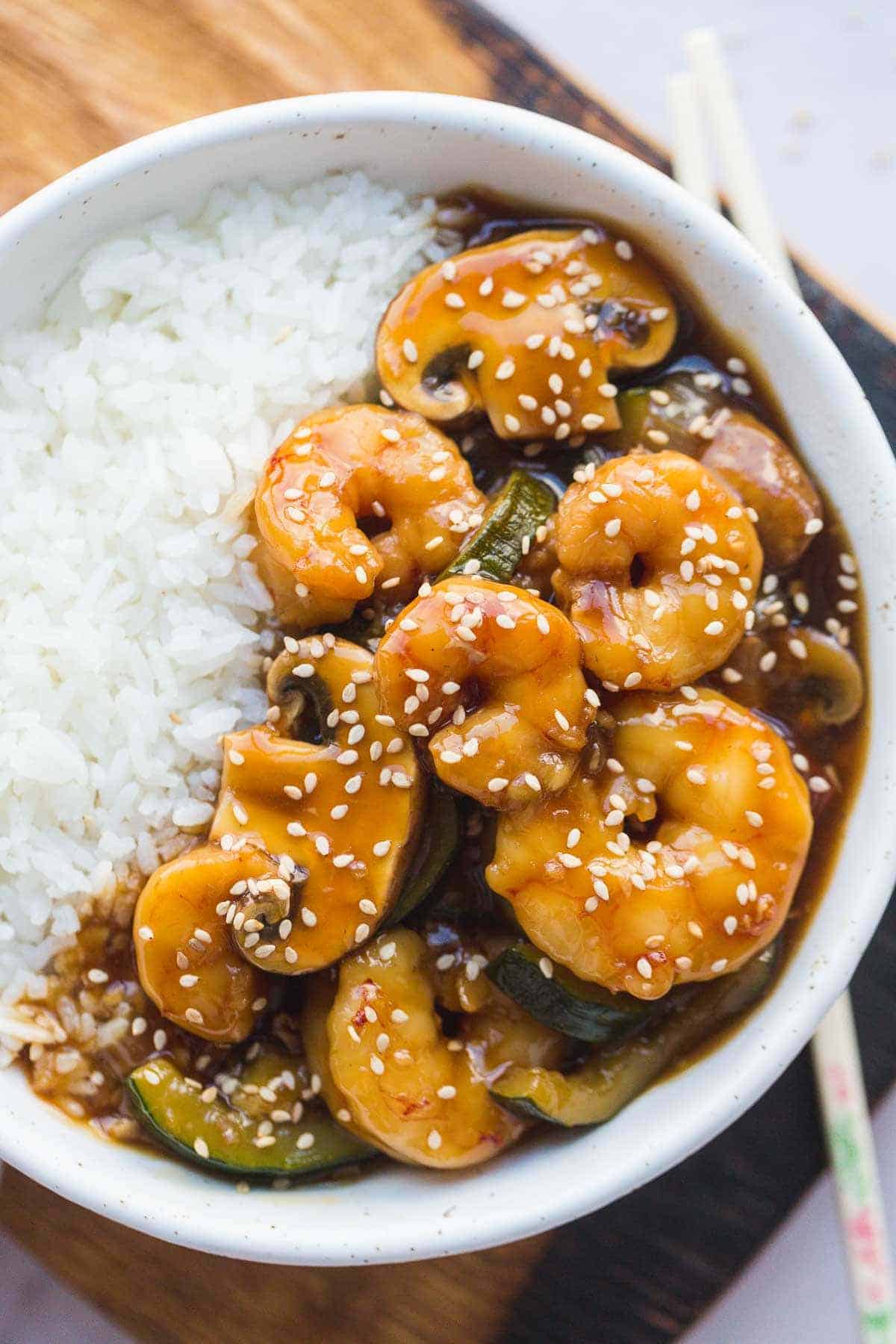 Hibachi recipe made in the instant pot???
Yes, it is possible as proved by Dianna of LittleSunnyKitchen.com. Look at that perfect bowl of shrimp hibachi!
I can't believe how easy it is to make this hibachi shrimp meal. All the ingredients are already in my pantry. No fancy ingredients needed.
I am going to serve this with my zucchini walnut fried rice. What will you serve it with?
Jill of ThisOldGal.com put peas in her linguine and that made me smile! I absolutely love her use of peas, linguine and shrimp in a simple casserole recipe.
Making this whole casserole recipe in the instant pot is a super quick way to get dinner on the table. Her recipe takes 2 minutes to cook and 17 minutes for other tasks.
So, dinner will be ready in under 20 minutes. This is a must-bookmark recipe for all busy families.
---
🔥 Grilled Shrimp Recipes
Let's face it! Grilled shrimp is the favorite way to eat shrimp. My kids will eat 4-5 skewers in one sitting if I let them!
Shrimp on skewers cooks evenly and it gives it the perfect crispiness. The marinade is always easy to prepare with just a few ingredients.
Don't forget to add garlic to your marinade. It will make the grilled shrimp taste so much better.
I use sriracha sauce in this recipe because it's everyone's favorite. You can also use red chili powder or your favorite hot sauce.
For the sweetness, you won't believe the ingredient I used. Hint: it's commonly used in breakfast recipes.
So go to this recipe and bookmark it! Make it as often as you want! Send me your pics too.
Indian flavored grilled shrimp recipe! Tandoori flavored shrimp is stuff that dreams are made of!
My family is a huge fan of Indian food. At the top of the list, we love our tandoori chicken so much. But, I think this recipe just might claim the 1st place spot in my home!
Saima of IndianAmbrosia.com is the brains behind this out-of-this-world tandoori shrimp recipe. I feel like she knows the way to my taste buds.
The ingredients are easy to find, so, I am not intimidated by this recipe. Saima walks you through the whole process in her blog post and it really is easy.
So, impress your friends and family by grilling this tandoori shrimp today. Be sure to let Saima know about how much you loved her recipe.
Who would have thought to grill shrimp with coconut rum? HomeCookingMemories.com has done just that and they came up with a very adult-friendly shrimp recipe.
I have used rum in the past to make fudge recipes. Now, this shrimp recipe gives me an new excuse to use it more often in my cooking.
This "drunken shrimp" recipe is a must try for all adults. It's one of the most unique marinades I have seen and I am excited to try it out.
I think my grill will be working full time because I am making this shrimp recipe over and over again.
Do you use rum in your cooking?
---
❓ Answering your shrimp questions
I love getting shrimp cooking questions from my readers! You always have the best questions about how to best work with shrimp.
If you have more questions, feel free to comment below with your question and I will be happy to answer it.
What is "deveining" a shrimp?
The digestive tract of the shrimp is a vein that runs at the back of the shrimp. This vein is how the shrimp, ahem, gets rid of it's waste material.
The process of deveining is when that the vein is removed from the shrimp.
Is it really necessary to devein shrimp?
The vein doesn't ruin the taste the shrimp, so, it's fine to cook with it. That said, though, most shrimp lovers don't like eating that vein. Who would want to eat it's digestive tract, right?
The good news is that it's really easy to devein shrimp, so, I take the extra five minutes to remove it.
Epicurious has a really easy video on how to devein shrimp.
What are the varieties of shrimp?
Did you know that there are over 300 types of shrimp around the world? I had no idea just how many species of shrimp exist. Now, I am on a mission to try as many shrimp varieties as I can find.
Shrimp is normally categorized by their color. Can you guess them?
Did you guess red, white, brown and pink? If yes, then you are correct.
I have seen and tasted all 4 shrimp colors and do have a favorite color. The red shrimp is on the sweeter side and it happens to be my husband's favorite. My favorite is the brown shrimp, slathered in butter!
Which color of shrimp is your favorite?
What are the different shrimp sizes?
Shrimp comes in 7 main sizes. Medium, large, and jumbo are the three most commonly used in cooking.
The number of shrimp in a package depends on the size of the shrimp.
How do I know when shrimp is cooked?
When the shrimp color goes from grey/brown to an orange body and pink tail, the shrimp is done cooking.
It took a bit of trial and error for me to master this. I can't tell you how many times my shrimp turned "rubbery" because I over cooked it.
Turns out, that shrimp doesn't take more than 5-10 minutes to cook perfectly.
If I only knew then what I know now......
What can I serve with shrimp?
Shrimp is one of those ingredients that doesn't need to paired with any other ingredient. Shrimp is astoundingly delicious by itself.
But, that doesn't mean you shouldn't pair it with other ingredients.
Shrimp and grits are a match made in heaven! This combination is one of the best ways to serve shrimp.
Serve easy shrimp dinners with pasta, rice, rich tomato sauce, or veggies. I have even put shrimp in a delicious seafood pot pie recipe.
My favorite way to serve them is with zoodles! Have you tried it? It's so delicious and easy.
---
Can I cook shrimp in the oven?
Yes, it's really easy to cook shrimp in the oven. In fact, it's a great technique to use especially if you are feeding a crowd.
You can mix the ingredients of the shrimp with a buttery or spicy sauce and then spread it out on a baking tray. Make sure the shrimp is in a single layer. For large batches, I like to use more than one baking tray.
Then I bake it in the oven at about 350°F for 10 minutes or so. Keep an eye on the shrimp because it will burn easily.
Once out of the oven, you can flavor it again and serve it by itself or as a side.
Check out how Sarah of FeedingYourFam.com makes an amazing sheet pan shrimp fajitas recipe.
What nutrition is found in shrimp?
Shrimp is one of the most nutrition packed foods on the planet. I always feel good when I serve it to my family.
Here are a list of awesome nutrition found in shrimp:
Protein (about 27g in 4-oz serving)
Selenium
Iron
Omega-3 and Omega-6 fatty acids
Zinc
Magnesium
Phosphorus
Iodine
Vitamin B3
Shrimp also happens to be keto-friendly because it has very low amount of carbs.
Source: American Shrimp and Women's Health
---
So, I hope you have found new shrimp recipes to make at home. Make them over and over again because they are all delicious!
Can't get enough seafood recipes? For all seafood lovers, I have an collection of over 45 seafood recipes that you can make all year round.
---
📖 A few more shrimp recipes
Wait, there's more! Here are some more easy shrimp dinners from my blog. They are quick, easy, and kid-friendly recipes that you can easily make at the end of a long day.